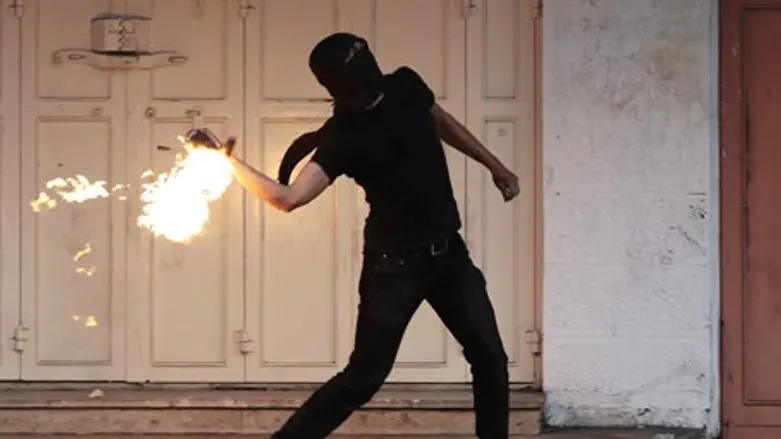 Arab terrorist throws molotov cocktail (file)
Reuters
Police on Monday arrested five Arab children aged 12 to 13 from the mixed Jewish and Arab neighborhood of Abu Tor in eastern Jerusalem, after they threw molotov cocktails at Jewish homes in the neighborhood.
The five perpetrators admitted under investigation to hurling the firebombs at the homes of Jewish families on several different occasions because they "hate Jews," as they put it.
Police investigators updated the relevant welfare sources, and at the end of their investigation will pass the evidence to the attorney's office so as to submit an indictment against the children due to the seriousness of the incident, despite their young age.
Jerusalem police emphasized that the investigation is continuing and additional arrests are likely.
Abu Tor has been the target of constant rock and firebomb attacks, including one molotov cocktail attack last September on Yom Kippur in which a family was nearly burned alive as their house was set on fire.
An attack last February nearly set an entire building on fire in the neighborhood, when a firebomb narrowly missed a gas pipe.
The recent arrest comes after police arrested four Arab youths aged 15-17 from Issawiya in Jerusalem on suspicion of carrying out an attack last Sunday, in which Arab rioters tried to blow up a gas station in the French Hill neighborhood.
The various attacks are part of an exponential escalation in terror attacks in Jerusalem over recent months, with one serious example of the security deterioration seen in a recent video showing Hamas supporters in the north-eastern neighborhood of Shuafat shooting at a Border Patrol post with a modified sub-machine gun.