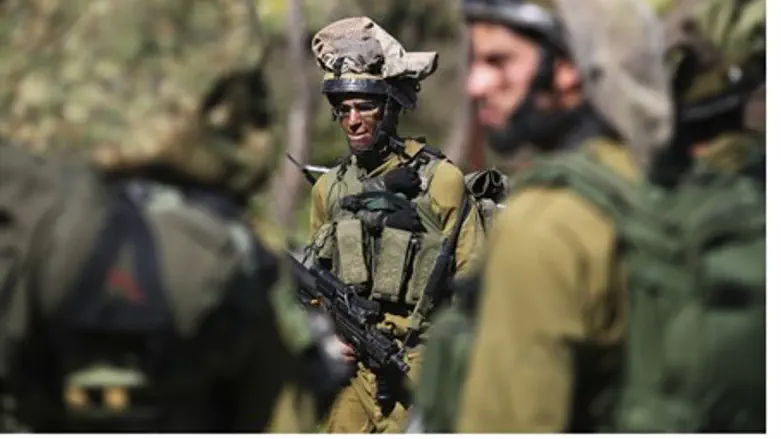 IDF soldiers on nothern border
Reuters
The IDF estimates that in a future war, Hezbollah will be able to grab small parts of northern Israel, like the Ramim or Hasulam ridges along the border, but the IDF will take them back "within a few hours."
"At present, the understanding is that we are not headed toward war," a senior IDF officer in the northern front told reporters, but immediately added – "On the other hand, there are many developments, there are small things that can create large events. The instability can develop into an explosion, and into war."
"Although [Hezbollah chief Hassan] Nasrallah is not interested in heating up the sector, in the end, a small event, a small terror attack can develop. The matter needs to be managed carefully and when one makes decisions, one must be prepared to take the risks."
The matter currently on the minds of residents of northern Israel, more than any other, is that of terror tunnels. The senior officer said: "I am not familiar with a tunnel in the sector that is ready for attack." He added, however: "Hezbollah entered the underground world before Hamas even thought of it and it was Hezbollah that explained to Hamas how to prepare for such an operation – the organization has 'been there' for a long time.
"The ground in the north is harder and this is another story, topographically, but I imagine that [Hezbollah] is thinking about it in terms of attack. In the end, there is tangled brush here and one does not have to invest so much in tunnels to penetrate a community in the north, like Misgav Am for example."
Regarding the possibility of a third Lebanon war, the senior officer said: "There will be attempts to carry out attack moves, both against civilians and against soldiers. If it took 50 days in Gaza, in the north the war could take about four months.
"The campaign can be short but it can also be long. I think that a fast, aggressive maneuver into the depth of the territory will dramatically influence the campaign over time. The important thing is, what will follow the campaign, in terms of creating deterrence.
"It is important to relay the message to the world," he added, "that since Hezbollah resides inside civilian population centers in the villages, there will be huge damage to Lebanon here. There will be many deaths of uninvolved people."
The officer added that Hezbollah has special and skilled forces that will be put into action in a confrontation in order to bring victory to the organization. "According to the estimate, there will be a meaningful envelope of fire, there will be envelopes of observation and there will be a main force that carries out the attack, that will range between dozens and a few hundred fighters, in the war."
"When we talk about a force carrying out a raid, we will not be talking about 12-13 fighters like we saw in Protective Edge, but 50-70 fighters. They are learning from Syria to fight in large units. They understand what urban warfare involves."
Hezbollah does not want war with Israel at this time,the officer estimated. "I have no ability, at this moment, to say how the organization understands Operation Protective Edge, in a long term view. There is no doubt that the Iron Dome story is a dramatic event in their eyes, because Israel can dramatically reduce the number of [its] civilian casualties."
How will the IDF cope with the next war? "I do not believe that there is a challenge in Lebanon that the IDF cannot handle. The story is, how much will we pay in 'tuition' at the start of the war. There is nothing that can stop this machine called the IDF."