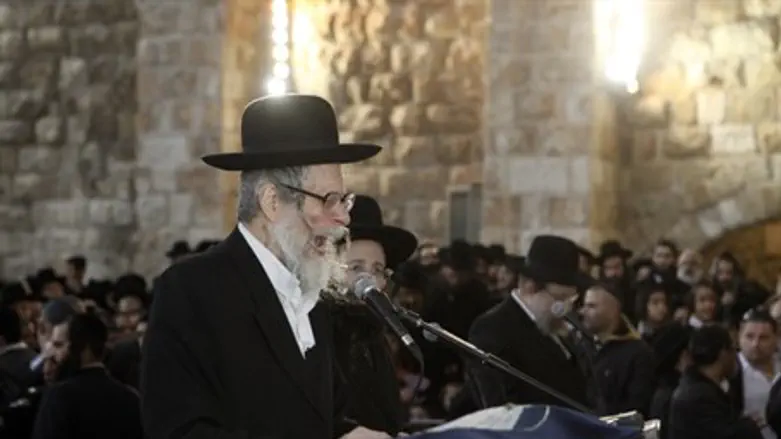 Rabbi Eliezer Berland
Flash 90
Authorities in Holland released Rabbi Eliezer Berland last week, but his passport has been confiscated, pending a decision on his extradition back to Israel. He was arrested at Amsterdam Airport on September 11 at the request of Israeli authorities. 
Berland, the founder and head of the Shuvu Banim community located in the Old City of Jerusalem, is suspected of a number of sexual assaults against women. He has been considered a fugitive since fleeing Israel two years ago, when allegations first surfaced and he was asked to come in for questioning. The arrest in Amsterdam was made at the request of the Israeli State Attorney's international department, using a warrant, issued by police unit Lahav 433, through Interpol. 
"I have no clue. It's all rumors spread over the past ten years," Rabbi Berland stated to Channel 10 news. "No proof exists. The police (in Amsterdam) released me and told me that that all complaints against me had no foundation and no basis." 
Disregarding the pending extradition, Rabbi Berland proclaimed, "I'm finished with the land of Israel. It is a country of Hamas for me." 
When initial reports came out two years ago that he had committed inappropriate acts against female followers, Rabbi Berland first fled to Morocco. He was forced out by the Moroccan government after an article was published in a major newspaper there, detailing the allegations against him, and revealing why he had brought such a large following with him to Morocco. 
His followers tried for months to find another country without an extradition treaty with Israel. They eventually settled on Zimbabwe, but were forced to run again, a short time later. They were living in Johannesburg before coming to Amsterdam, where he was eventually arrested. 
Berland continues to deny the allegations against him, and plans to fight the against the extradition.