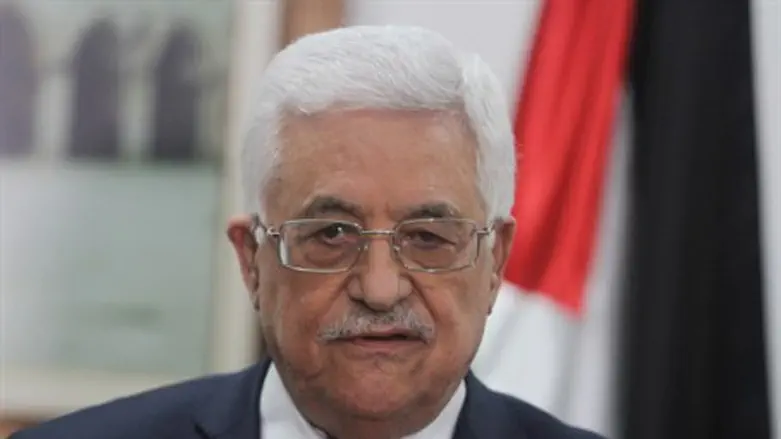 Mahmoud Abbas
Flash 90
Palestinian Authority (PA) Chairman Mahmoud Abbas has blocked an attempt to push for the prosecution of Israel for war crimes in Gaza at the International Criminal Court (ICC), a senior Palestinian Arab official said over the weekend.
Hasan Khreisha, the second-deputy speaker of the Palestinian parliament, told the Ma'an news agency that the PA's decision to join the ICC and thus press charges against Israel was halted by Abbas in order to push forward a new peace talks bid.
"President Abbas decided not to sue Israel at the ICC unless his new initiative fails to resume peace talks with Israel," Khreisha said, adding that the PA was waiting for the United States to officially reply to a message from Abbas asking for the resumption of talks.
Khreisha told Ma'an that even though all major Palestinian parties had given Abbas a document in which they voiced their support for Palestinian accession to the ICC, "so far no practical steps have been taken in that direction."
"There are many golden opportunities open to the Palestinian leadership, but we are not using them," he added.
"Rights should not be traded for other rights, and we should not stick to one option at the expense of other options," said Khreisha.
The PA has been threatening for years that it will sue Israel at the ICC. The PA's Foreign Affairs Minister, Riyad al-Maliki, recently met with ICC officials and inquired about the legal procedures necessary for the PA to join the ICC and sign the Rome Statute, thus allowing it to take action against possible Israeli war crimes in Gaza.
That move came the PA requested to join 15 international agencies in breach of the conditions of the peace talks that were going on with Israel at that time.
Hamas is one of the factions that signed a proposal for the PA to apply to join the ICC in August, but so far no move has been made, and on Friday, senior Hamas official Ismail Haniyeh urged Abbas to sign the Rome Statute and hold Israel accountable for its "crimes in Gaza" at the International Criminal Court.
Despite the constant threats to turn to the ICC, PA officials realize that doing so is a calculated risk because it would give Israel a forum to pursue war crimes charges against the PA as well and particularly against Hamas.
In a recent interview, the PA's envoy to the United Nations Human Rights Council (UNHRC) admitted the PA has no hope of pressing charges against Israel in international courts - because Palestinian terrorist groups are far worse violators of international law themselves.