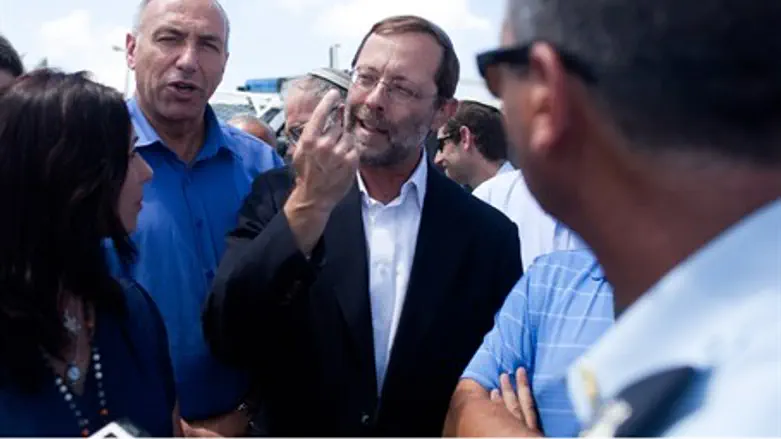 Moshe Feiglin at targeted Jerusalem gas stati
Flash 90
MK Moshe Feiglin (Likud) visited eastern Jerusalem and the Temple Mount on Thursday with members of the Internal Affairs Committee, where he told Arutz Sheva that he is convinced the wave of terror in the capital will only increase in coming days.
"The loss of control over Jerusalem, and by continuation also over Gaza, started on the Temple Mount," Feiglin said, while at the French Hill gas station that Arab rioters tried to explode on Sunday.
Feiglin's comments come in the wake of the dismantling of a new access ramp to the Temple Mount in a folding to Jordanian pressure, and recommendations by MKs, including those of the Jewish Home, to maintain the status quo of de facto Jordanian Waqf (Islamic Trust) control.
"The one who controls the Mount controls the land, and first of all (controls) Jerusalem," emphasized Feiglin to Arutz Sheva. "Whoever thought that they could abandon the Mount for over 40 years to Hamas and extremist Islam and conquer Jerusalem through the Zionist method of 'another sheep another dunam' (i.e. building) - I think we must understand now that they were wrong."
Feiglin stressed that the Temple Mount is the center of Jerusalem, warning that many "still think we can take our Zionist actions in reverse, and that the Israeli leadership that ignores the Mount will advance us in the process of redemption and everything will be okay."
However, the abandonment of the Mount and "depressed" ending of Operation Protective Edge, in which decisive military action to remove the Hamas threat was not recorded, will only spur terror in Jerusalem according to the MK.
"Hamas in its mind won the war, its standing in the Muslim world was increased enormously, and what we did to them in Gaza interests (Hamas leader) Ismail Haniyeh about as much as last year's snow," remarked Feiglin.
"After the Six Day War there was quiet here, and also after the Yom Kippur War," reminded the MK. "The fact that a new intifada is starting here in Jerusalem is a direct continuation of the depressed result of Protective Edge. These two processes - the abandonment of the Mount and the result of Protective Edge, join together into a threatening intifada."
Indeed, reports on Monday revealed that in the past few months terror attacks in Jerusalem have been growing exponentially, with 152 terror attacks and incidents in July and August, a stark rise from previous months.
"There is no 'settler' that suffers more in all of Judea and Samaria than the 'settler' here in the very heart of Jerusalem," stated Feiglin. "It's already throughout the country, but as usual - its more pleasant for Israelis to ignore (the reality)."