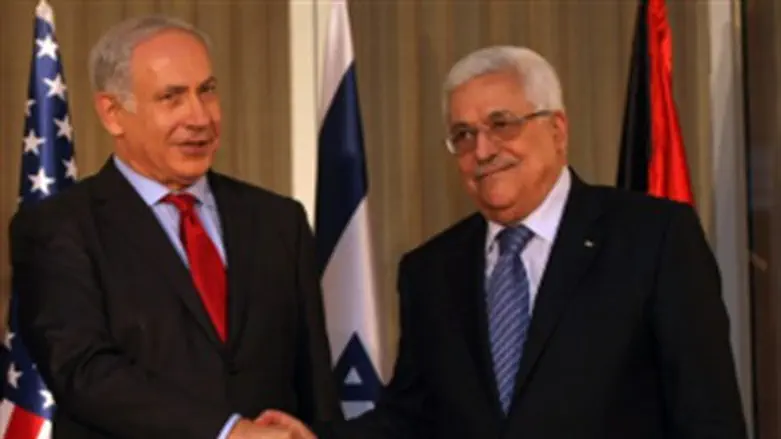 Netanyahu and Abbas (archive)
Flash 90
The United States on Thursday reiterated the need for a peace agreement between Israel and the Palestinian Authority (PA).
The call was made in a statement published by the State Department following the latest round of Strategic Dialogue between Israel and the U.S.
Israel's Minister for Strategic and Intelligence Affairs Yuval Steinitz and Deputy Secretary of State William Burns headed the respective delegations.
"The two sides engaged in a wide-ranging discussion of developments in the region and reinforced their shared commitment to fight terrorism and to prevent threats to regional stability. The parties discussed the recent conflict in Gaza, and the importance of reaching a durable peace and an end to the cycle of conflict," said the statement.
"The two delegations also agreed on the urgent need for reconstruction and humanitarian assistance to support the people of Gaza, and underscored the importance of strengthening the Palestinian Authority. The United States reiterated its concern about continued settlement activity in the West Bank," it added.
"The two sides agreed to continue to consult closely on regional issues," concluded the U.S. statement.
The statement also noted that the Strategic Dialogue "highlights the strong partnership that binds Israel and the United States."
In recent days, there have been several calls on Israel and the PA to resume peace talks.
Opposition leader and Labor party chairman MK Yitzhak Herzog spoke with PA Chairman Mahmoud Abbas last Friday and asked him to resume peace talks with Israel and to refrain from unilateral steps, which Abbas has been continuing to make.
Aides to Abbas revealed that he will soon appeal to the international community to set a deadline for Israel to withdraw back to the indefensible pre-1967 borders and make way for an independent Palestinian state.
In April, the PA requested to join 15 international agencies in breach of the conditions of the U.S.-led peace talks that were going on with Israel at that time.
In response, Israel cancelled the fourth terrorist release "gesture" and subsequently pulled out of the talks altogether, after the PA signed a unity pact with Hamas.