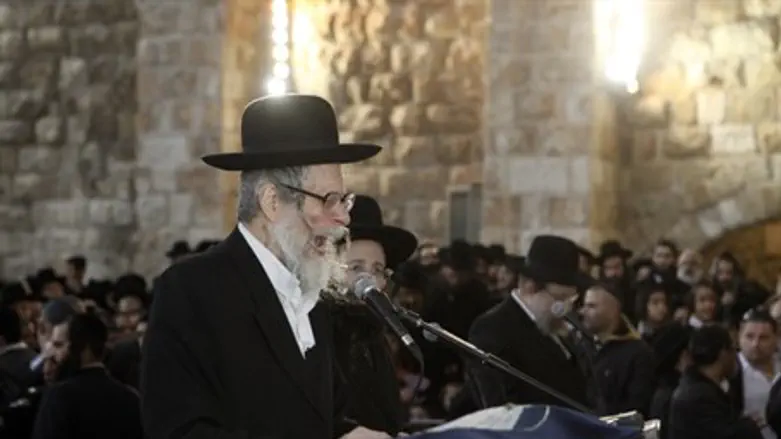 Rabbi Eliezer Berland
Flash 90
After two years on the run from Israeli authorities suspected sex-offender Rabbi Eliezer Berland has reportedly been arrested in Amsterdam's international airport, and will soon be extradited back to Israel.
Berland, who founded and leads the Shuvu Banim hassidic sect, was accused of sexually molesting several female followers in Israel but fled the country to escape investigation.
Some will be asking how the runaway rabbi managed to escape facing justice until now, but his network of loyal followers proved key both in hiding him and helping him give police the slip on numerous occasions.
Just last week Berland dodged police in Johannesburg, South Africa, by the skin of his teeth as he traveled to officiate at the wedding of one of his followers.
Police attempted to ambush the car he was traveling in, but the fugitive rabbi managed a dramatic escape.
"Our team tried to nab him. We had a mini roadblock and as soon as he saw that, he jumped out of the car he was travelling in and into a BMW that was nearby," police spokesman Paul Ramoloko told the oilnews website. "The BMW climbed on the pavements and drove on them, hitting people's trees and pot plants as they fled. We could not shoot at him because it is not how we wanted to operate this. We know that we will get him."
Berland had escaped police under similar circumstances just a month earlier.
Police attempted to nab him as he officiated at a previous wedding, but bumbled that arrest rather embarrassingly.
"This man surround himself with a group of about 12 people or more. They were all wearing black coats and looked the same. The way things were, we would have arrested the wrong person. We asked people we found there where he was and they said he was not there. It is not easy to arrest him but our guys don't sleep - they are constantly looking for him," Ramoloko said.
In the end, however, it was Dutch police who caught Berland, who clearly realized it was only a matter of time before South African authorities honed in on him and was seeking a new base.
It was the final stop in a long game of cat-and-mouse across several continents for Berland.
After he was accused of committing indecent acts against several young female followers and learning that he was wanted for questioning Berland fled Israel before he could be arrested, absconding first to the US, and then moving on to Italy and Switzerland.
He eventually settled for a time in Marrakech, Morocco, before being forced out by the government. He then moved once again to Zimbabwe, from where he was allegedly deported earlier this year.
Berland and several of his hard-core followers then chose to settle in South Africa, much to the dismay of the local community, who were not particularly pleased to find a suspected sex-offender seeking refuge among them.