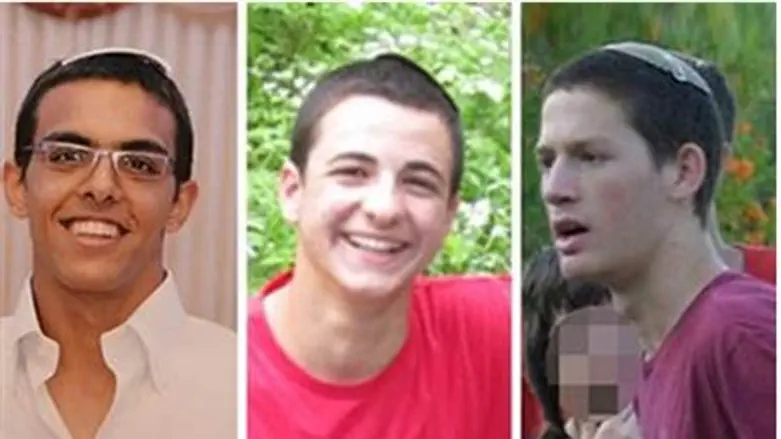 Eyal Yifrah, Gilad Sha'ar, Naftali Frenkel
courtesy of the families
Palestinian Authority (PA) security forces have reportedly arrested Fares Kawasmeh, a Hevron-based member of the Hamas-linked Kawasmeh clan that conducted the abduction and murder of Naftali Frenkel (16), Eyal Yifrah (19) and Gilad Sha'ar (16) on June 12.
Hamas senior sources on Tuesday afternoon confirmed reports cited on Channel 10 about the arrest. According to the reports, Fares is a 31-year-old doctor from Hevron, and is suspected of being involved in the planning of the horrific murder.
Qatar-based senior Hamas leader and spokesperson Hussam Badran responded to the news of the arrest on his Twitter account, where he claimed that "the only crime Kawasmeh committed was to speak for Hamas at the victory celebrations for Gaza after the fighting against Israel."
The "victory celebrations" for Operation Protective Edge appears to refer to the massive Hamas rallies held even in the PA-stronghold of Ramallah in Samaria, which have occurred in the midst of unprecedented tensions between PA Chairman Mahmoud Abbas and Hamas.
Abbas recently threatened to end the unity deal with Hamas in a growing falling-out over a failed Hamas coup attempt, and disagreements over the decision to launch the recent war on Israel and abduct and murder the three Israeli teens.
An indictment was submitted against Hussam Kawasmeh, the mastermind of the murder, last Thursday. In the course of proceedings it was revealed the Hussam received some 200,000 shekels from his Gaza-based brother and Hamas operative Mahmoud Ali to fund the attack.
The money was used to buy the two cars used in the abduction and fleeing the plot north of Hevron belonging to the family where the teenagers were buried, as well as two pistols and two assault rifles used in the murder.
Another Kawasmeh brother, Marwan, along with his accomplice Amar Abu-Eisha, actually carried out the brutal murder. The two are still at large, as is yet another Kawasmeh brother, Mahmoud Ali, who as noted helped plan and finance the mission from Gaza.
It was found that several local Arab residents helped hide and shelter the Kawasmeh brothers, including Jerusalem resident Wael Karameh, who was indicted late last month for sheltering Hussam.