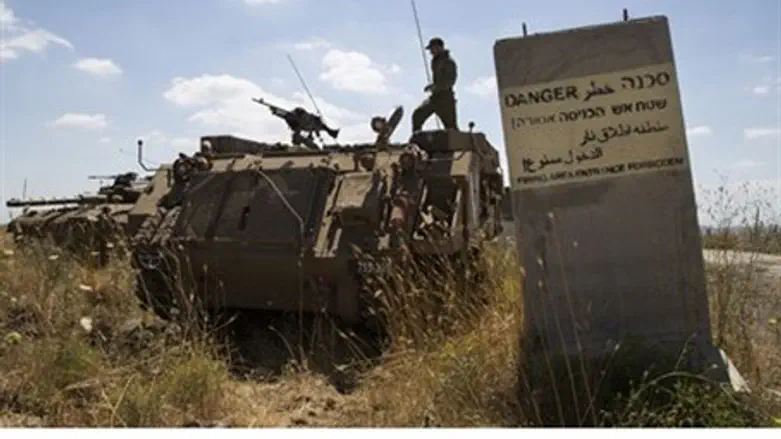 Syria border (file)
Reuters
Stray gunfire from Syria wounded an Israeli soldier in the Golan Heights on Monday, the army said.
"An IDF (Israel Defense Forces) soldier was injured by errant fire from internal fighting in Syria. He was evacuated to hospital," an army statement said, without elaborating.
The soldier is reportedly from the Armored Corps., which is currently stationed along the Israeli-Syrian border. 
IDF sources told Arutz Sheva Monday that the gunfire surfaces after a full day of quiet along the border, with no shots or explosions heard on the Syrian side. 
Hours ago, a senior military official briefed soldiers along the border, stating that the quiet is misleading. 
"The fighting in the area has chased away all the local villagers, and the several hundred of fighters from the Al-Nusra group are holding the area in their grip," he said.
"Their sole aim is to topple the Syrian regime, and while that aim is being met, they have no interest in Israel," he continued.
"The UN forces on the Israeli side have not been hit at all in the recent developments, and UN soldiers who were stationed in Syria abandoned their outposts in order to escape into Israel. Those who were not able to make into Israel were captured by the rebel forces," he explained.
The incident came as Syrian troops and Islamist terrorists fought for control of areas near the Quneitra crossing, which Israel closed after Al-Qaeda-linked groups took it over last month.
Israel is closely monitoring fighting between Syrian troops and Islamist rebels near the armistice line for fear of a spillover of the internal conflict.
The IDF responded to "errant fire" last week, hitting a Syrian military position after a mortar shell hit the Golan without causing damage or casualties.
The incident follows the IDF shooting down a Syrian drone just 24 hours prior to the attack, after it strayed into Israeli airspace.