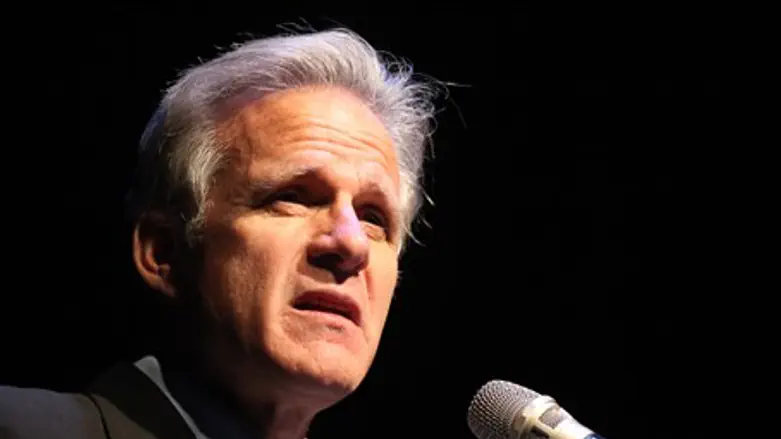 Michael Oren (illustrative)
Flash90
The efficacy and threat level of the Boycott, Divestment, and Sanctions (BDS) movement against Israel has heightened after Operation Protective Edge in Gaza, Former Israeli Ambassador to the US Dr. Michael Oren stated Monday - and allegedly justifies a withdrawal from Judea and Samaria. 
Israel's economic, political, and cultural status has already been damaged existentially across the globe, Oren warned, due to the constant campaigns for "Israel Apartheid Week" on college campuses and European divestment from the Jewish state.
Speaking at the fourteenth International Conference of the International Institute for Counter-Terrorism at the Interdisciplinary Center (IDC) in Herzliya, Oren noted that BDS is merely the beginning of the global campaign to isolate Israel - which is the ultimate goal of both Hamas and the Palestinian Authority's ruling party, Fatah. 
"The danger intensified after Operation Protective Edge, whereby Hamas has used the civilian population in order to produce a harsh portrayal of Israel to the world," Oren noted.
Hamas consciously declared victory in its PR campaign against Israel several weeks ago, after it encouraged ordinary Gazans to become human shields, then peddled false information on 'civilian casualties' to the international media. 
Oren insisted, however, that the PA has placed Israel's political credibility far more at stake, via the highly cited, but inaccurate, assumption that a criminal trial in the International Criminal Court (ICC) against Israel would harm Israel more than it harms the Palestinian leadership itself. 
"Whereas against Hamas they say that we drew a tie, with the Palestinian Authority, we might suffer a heavy loss with Mr. [PA Chairman Mahmoud] Abbas's desire to appeal to the International [Criminal] Court in The Hague to bring about sanctions and isolation," he stated. 
Oren also sharply criticized the Israel's government's failure to handle the global BDS movement, in his words, naming it "a failure and a very real abandonment" of its own people. 
The solution to all of the above, he claimed, is for the political right to present its own "peace plan." 
"The time has come for the ideological Right to mature, and lay on the table its own diplomatic initiative," Oren said, "an initiative to end Israel's control over the Palestinian population [in Judea and Samaria]." 
"It is upon us to set borders which would include the maximum number of Israelis and holy places, as well as to maximize security arrangements," he continued. "Israel's leadership must make this courageous decision." 
Oren's urging surfaces just weeks after Operation Protective Edge - which many have noted stemmed directly from the last wide-scale land withdrawal, the 2005 Disengagement from Gaza - resulted in over 3,600 rockets being launched at millions of Israeli civilians. 
The statement also surfaces amid ample evidence that Hamas is gaining significant political ground in Judea and Samaria, meaning that any wide-scale withdrawal from the area is likely to see the terror group take power - and see rockets being rained on Israelis just outside of the Gaza leadership's rocket range.