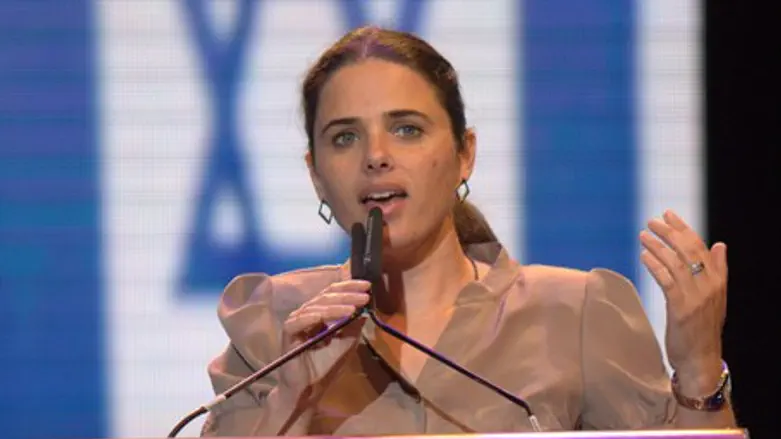 MK Ayelet Shaked
Hillel Maeir
Jewish Home party chairwoman MK Ayelet Shaked responded Monday morning to reports that the Egyptian government had offered the Palestinian Authority a state extending from Gaza through the Sinai Peninsula, and called on Prime Minister Netanyahu to take it seriously.
Aiming a barb at the Israeli Left, she said the initiative proved how out of touch they were.
"If the report is indeed correct, the president of Egypt has managed to understand what the Left in Israel has refused to understand for decades."
She asserted that the solution to the conflict between Israel and the Palestinian "needs to be regional, and cannot fall solely on Israel's shoulders. I call on the prime minister to meet with the Egyptian president to examine the feasibility of the initiative."
According to IDF Radio, Egyptian president General Abdel Fatah Sisi offered Palestinian Authority chief Mahmoud Abbas to cede 160 square kilometers of the Sinai Peninsula adjoining Gaza to the PA, thus creating a Palestinian state five times the present size of Gaza. In return, the PA would stop demanding that Israel return to the 1967 borders.
Sisi reportedly suggested that Palestinian "refugees" be allowed to settle in the new, much enlarged Gaza, which would be demilitarized.
The Palestinian cities in Judea and Samaria would enjoy autonomy and be fully run by the PA, according to the plan, which would leave the PA with even more territory than it would have if Israel ceded all of Judea and Samaria.
Transportation Minister Yisrael Katz (Likud) also responded to the reports, taking to Facebook to praise the "amazing offer of the President of Egypt."
"To give the Palestinians territory in Sinai (5 times the size of Gaza) [to] establish a Palestinian state there. In Judea and Samaria: The Palestinian cities will attain autonomy. In return the Palestinians will renounce their demands for an Israeli withdrawal to the [pre-]'67 lines," he described the plan.
He lauded as "a vision of the end of days" the fact that the proposal had reportedly gained US approval as well, and noting that "all that's left is to persuade Abu Mazen [Mahmoud Abbas]."
Prime Minister Binyamin Netanyahu is reportedly aware of the offer, according to IDF Radio,