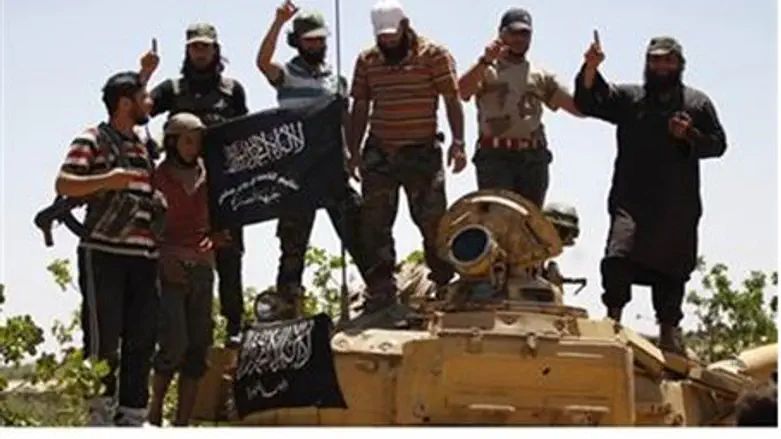 Al-Nusra Front terrorists
Reuters
Al-Qaeda's Syrian branch, the Al-Nusra Front, on Friday threatened Lebanon's Sunni Muslims they must support its cause or "pay the price", Reuters reports.
The group said the coming period would be decisive for anyone who stood with the Lebanese army, the report said.
The statements were made in a video which purported to show several Lebanese soldiers the Islamist terrorists captured during an incursion into a border town last month. It was not immediately possible to verify the video.
Lebanon has become increasingly embroiled in the civil war ravaging its larger neighbor Syria, where the Lebanese Shiite group Hezbollah as well as some Lebanese Sunnis have gone to fight on opposing sides of a war that has killed over 170,000 people.
Rocket attacks, car bombs and gun battles linked to Syria's conflict have killed hundreds in Lebanon over the past three and half years, and last month Islamists overran the border town of Arsal for several days.
On Friday, the Al-Nusra Front released a nearly half-hour long video showing several of the prisoners denouncing Hezbollah for supporting Syrian President Bashar Al-Assad.
Addressing "the Sunni people in Lebanon," a narrator in the video said, "You are of us, and we are of you. Support your people in Syria and be their assistance. Be aware, before you pay the price of being involved in a war alongside the Lebanese army against your brothers, the mujahideen."
"Or you shall pay the price just as the Sunni people in Syria did before you through the domination of the Nasiriyah (Alawites) and Rafidah (Shiites)," it said, according to Reuters using derogatory Arabic terms for the two sects.
The video also warned Shiites and "all sects of Lebanon" against supporting Hezbollah.
The Al-Nusra Front has pledged allegiance to Al-Qaeda chief Ayman al-Zawahiri and has been blacklisted by the United States and the United Nations as a terrorist group.
The group has claimed responsibility for several of the bombing attacks in Lebanon over the past several years.
(Arutz Sheva's North American desk is keeping you updated until the start of Shabbat in New York. The time posted automatically on all Arutz Sheva articles, however, is Israeli time.)