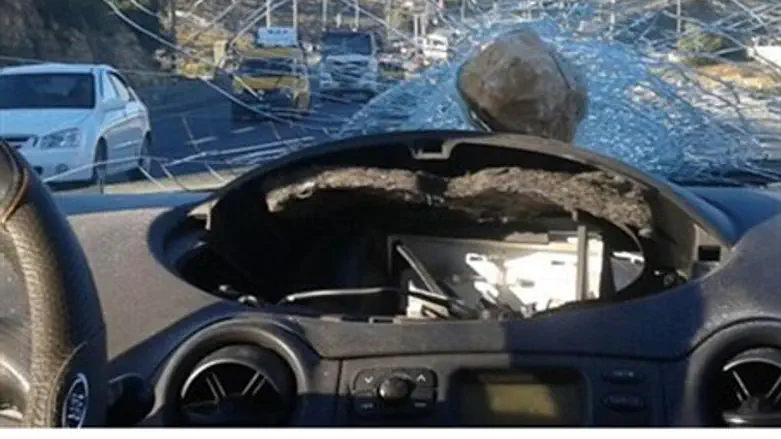 The rock was blocked by the dashboard
Yiska Hetzroni
Yiska Hetzroni, 24, of Kiryat Arba, had a premonition that something bad was going to happen to her that day. "I knew it was going to happen to me," she told Arutz Sheva. "I had a feeling before I left the house and I told my husband that I have a bad feeling. I was ready with the telephone to call the hotline."
"I drove from my home in the direction of Jerusalem," she recalled. "Just before the Arab village of Halhoul, I saw Palestinian children aged about 12 who were about to throw rocks at me. I immediately pressed down hard on the gas pedal. One rock hit the center of the front windshield and the other hit the left mirror."
A part of the dashboard of the Toyota she drives effectively stopped the rock from going any further, she said. "It was a real miracle," she added emotionally.
"I was alone in the car and there is no reception in that part of the road. Someone stopped next to me and drove with me to the Etzion Bloc junction, where my husband, the army and police were already waiting."
Just over a week ago, an 11-month-old baby girl was lightly hurt when Arabs threw rocks at the car she was in, at Yitzhar junction in Samaria.
A Magen David Adom ambulance that was alerted reached the junction and gave the baby first aid. It then took her to Schneider Children's Hospital in Petah Tikva.
The ambulance driver said that the rock that hit the baby was the size of a fist and that the fact that the baby did not suffer more severe injuries is "a miracle."
The attack took place just as it was reported that after a year and a half of intensive operations and treatment, four-and-a-half-year-old Adelle Biton will be returning to her home in the town of Yakir, in Samaria.