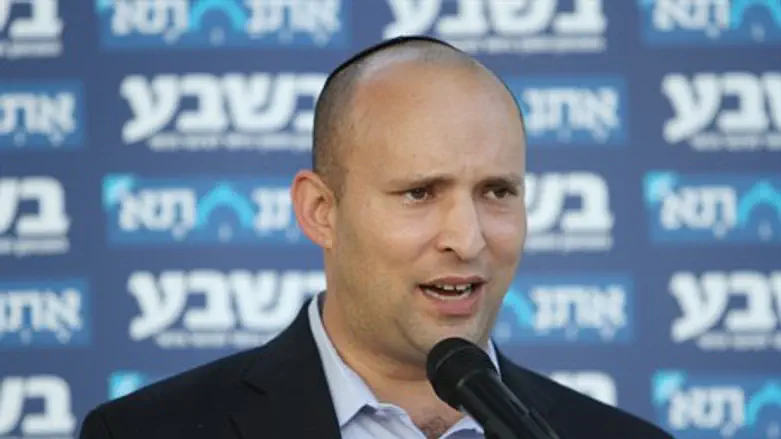 Naftali Bennett
Flash 90
A poll released Monday by the Knesset Channel found that 39% of respondents called Economics Minister Naftali Bennett leader of the "right-wing" in Israel, giving him the edge over Prime Minister Binyamin Netanyahu.
Coming in second, Netanyahu got 28% support, while 20% picked Foreign Minister Avigdor Liberman as their right-wing leader of choice.
The poll indicated that Bennett's Jewish Home party would garner 19 seats if elections were held today. The Likud would remain the largest party at 26 seats.
Labor would gain 18 seats, Yesh Atid and Meretz 10 each, Liberman's Yisrael Beteinu 8, UTJ (United Torah Judaism) 8, Shas 7, Hatnua 4, and Arab parties Balad, Hadash, and Ta'al a total of 10.
Regarding Liberman, 50% of respondents said they would classify him as being more right than Netanyahu's Likud, while 30% said he was "as right-wing" as the Prime Minister's party.
Thirty-two percent said that they considered Liberman's definitive political stance to be that of his claim that he would not give up "one inch" of Israel, while 29% said they saw his plan to concede land not over the 1948 Armistice lines in return for Israeli sovereignty over parts of Judea and Samaria.
With that, only 31% of respondents said that Liberman was trustworthy, and that he would fulfill his promises.
Meanwhile, polls showed last week that any popularity gains Netanyahu had made during Operation Protective Edge have dissipated.
Netanyahu's approval rating nose-dived to a mere 32% in the poll last Wednesday, with a full 59% saying they were not satisfied with him. Those figures signify an even further plummeting in Netanyahu's ratings; a similar poll two days earlier found that only 38% of Israelis were satisfied with Netanyahu, as opposed to 55% four days prior to that point.
At the start of the operation with the ground entry to Gaza, that figure was a whopping 82%.
Criticism has been pouring in from all corners over Netanyahu's apparent unwillingness to take decisive action against Hamas and return security to residents of the south.