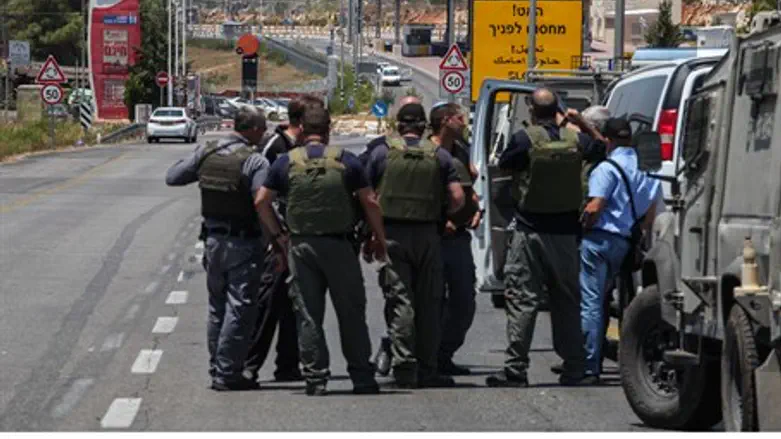 Security forces (illustration)
Flash 90
An explosion occurred Sunday morning near the Rehelim Junction in Samaria, near Ariel, but thankfully caused no damage or wounds.
IDF and police forces arrived at the station, which is on the side of the highway leading to Tapuach Junction, and likewise bomb sapper squads are on their way to the scene.
The security forces are searching the area for additional explosives and for suspicious figures.
Additionally, two pipe bombs were thrown at the Jit Intersection, located to the west of Shechem (Nablus) also in Samaria.
No damage or injuries were reported in that incident either, and likewise police forces are scouring the area for perpetrators and possible additional explosives.
Due to the searches in the area, it is expected there will be heavy traffic on the relevant highways at the following intersections: Ariel, Rahelim, and Jit.
The attacks come a day after Hamas "victory marches" were held in Ramallah, the seat of the Palestinian Authority (PA) government in Samaria. Those marches were held to celebrate the supposed "victory" of the badly damaged Gaza terrorist organization in Operation Protective Edge.
Likewise Hamas marches were held in the Galilee last Friday, in which Arab MKs Hanin Zoabi, Basel Ghattas, and Jamal Zahalka (Balad) pushed for the end of the "occupation."
The explosions come as Israel is on alert amid a recent spate of attacks. On Saturday night, Arab terrorists threw a molotov cocktail at "Beit Meyuhas," an historical Jewish home in the City of David area just south of Jerusalem's Old City.
In the firebomb attack one 45-year-old Jewish man was hospitalized for light wounds, after suffering first and second-degree burns to his head.