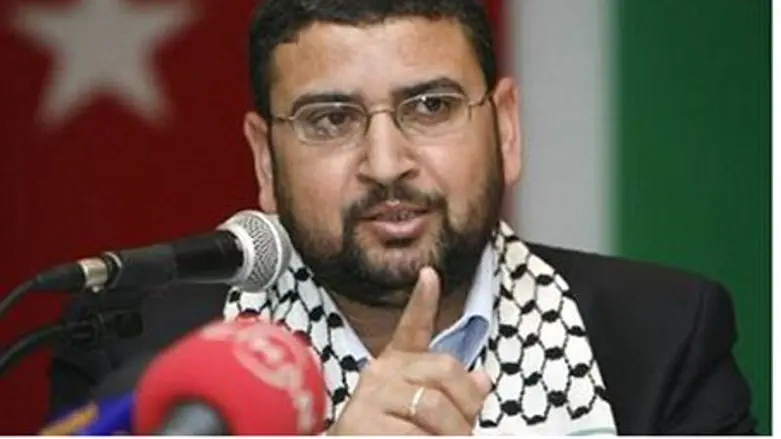 Sami Abu Zuhri
Reuters
Hamas on Saturday declared that any attempts to disarm the terrorist groups in Gaza are "worthless," the Ma'an news agency reported.
Hamas spokesman Sami Abu Zuhri said in a statement quoted by the outlet that the demilitarization of the factions was "inconsistent with international law and our people will not allow it."
"It is not required to disarm the Palestinian people, but rather to disarm the (Israeli) occupation and to ban the American administration from providing it with the weapons that are used to kill children and women," Abu Zuhri declared, according to Ma'an.
The comments come several days after a long-term ceasefire agreement ended the latest round of violence in Gaza.
Further negotiations on a permanent ceasefire are ongoing, and one of Israel's main demands has been a demilitarization of Gaza.
Hamas has been demanding, among other things, that a seaport and an airport be built in Gaza. On Friday, Defense Minister Moshe Ya'alon clarified that there was "no chance" Israel would agree to this demand.
"Hamas in essence accepted the terms of the ceasefire as we wanted, without all the issues it tried to bring up - a seaport, airport and prisoners. In accepted a ceasefire as we wanted without conditions," Ya'alon said in a television interview, making clear that "there is no chance that Hamas will receive a seaport - it is not in Israel's interest, it is not an Egyptian interest, it's not even in the interest of the Palestinian Authority."
Hamas leaders have been trying to present the ceasefire as a victory for Hamas, even as videos disseminated on the internet show aerial views of the Shejaiya neighborhood of Gaza, which was reduced to rubble in the fighting between Hamas and the IDF.
Shortly after the truce took hold on Tuesday, several senior Hamas and Islamic Jihad leaders appeared in public for a victory celebration. They had been hiding underground during the course of the Israeli operation.
Among them was Mahmoud al-Zahar, a senior member of the Hamas political wing, and senior Islamic Jihad leader Mohammed al-Hindi who gave a rousing victory speech to thousands of people gathered in a square in Gaza City's Rimal neighborhood.
"We're going to build our port and our airport, and if they attack the port, they attack the port. But anyone who attacks the airport will have their airport attacked again," Zahar said.