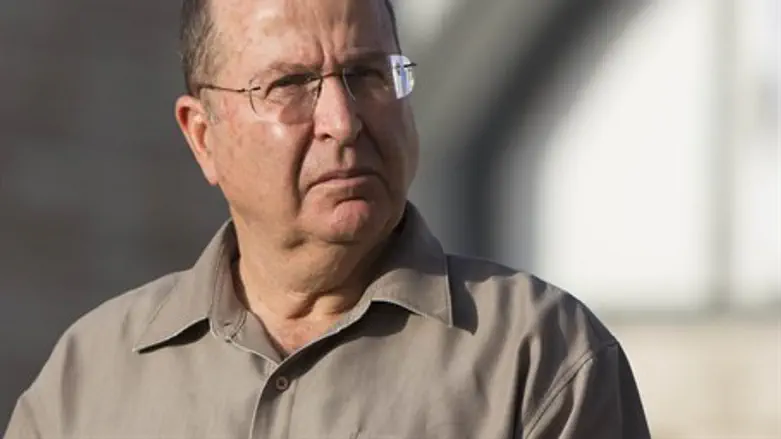 Moshe Ya'alon
Flash 90
Defense Minister Moshe Ya'alon made clear on Friday that "there is no chance" that Hamas will receive a seaport in Gaza, one of its demands as a precondition for a ceasefire.
Speaking to Channel 2 News in his first interview since the end of Operation Protective Edge, Ya'alon said that Israel had a clear victory in the operation and promised that if Hamas resumes the rocket fire it will pay.
"From a military perspective the victory is clear - everything the IDF touched, it defeated the other side," said Ya'alon, who added that the military achievements led to a ceasefire which is good for Israel and bad for Hamas, seeing as Hamas was forced to accept the Egyptian initiative over the Qatari initiative which was more favorable to Hamas.
"Hamas in essence accepted the terms of the ceasefire as we wanted, without all the issues it tried to bring up - a seaport, airport and prisoners. In accepted a ceasefire as we wanted without conditions," said Ya'alon, who made clear that "there is no chance that Hamas will receive a seaport - it is not in Israel's interest, it is not an Egyptian interest, it's not even in the interest of the Palestinian Authority."
Asked about the fate of Mohammed Deif, head of Hamas's "military wing" Al-Qassam Brigades who may or may not have been eliminated in an Israeli airstrike on Gaza, Ya'alon replied, "Time will tell."
The Defense Minister also referred to Hamas leader Khaled Mashaal and said, "Any leader of Hamas, political or not, heads a terrorist authority. Anyone who carries out terrorism against us may be a target for elimination."
Ya'alon, who is known for his hawkish views and his objection to the idea of a Palestinian state, was asked about his position with regards to Prime Minister Binyamin's Netanyahu stance on the issue.
"No one has any illusions on the subject - it is a very long process if at all. There is talk all the time, but we need to act without illusions and see how the Palestinian Authority continues to govern and improve its governance in Judea and Samaria," he said, noting that "without the activity of the IDF and the Shin Bet, Abbas would not have survived."
Asked whether the long-term ceasefire is sustainable, Ya'alon said, "After Operation Pillar of Defense and until July Hamas did not fire even one rocket. There were other organizations that did, and for each such incident, both Hamas and the other organization paid a price. Now that Hamas has seen what we can do, if it fires or allows firing of rockets it will be made to pay."
(Arutz Sheva's North American desk is keeping you updated until the start of Shabbat in New York. The time posted automatically on all Arutz Sheva articles, however, is Israeli time.)