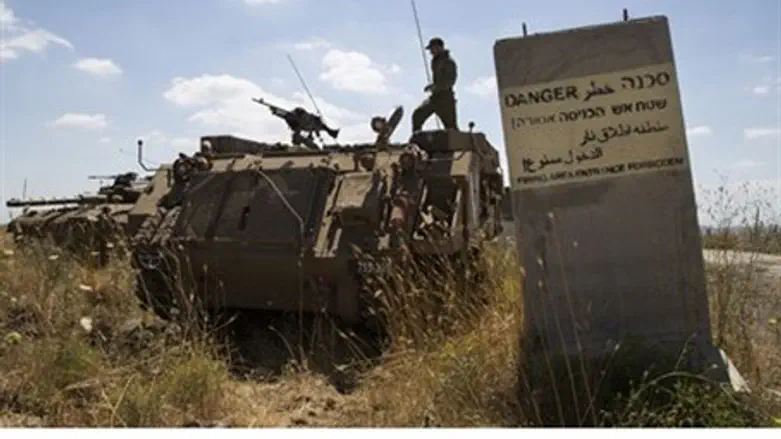 Syria border
Reuters
The United Nations on Wednesday referred to the shells fired from Syria which hit the Israeli side of the Golan Heights and called on all sides to "exercise restraint".
The United Nations Disengagement Observer Force (UNDOF) in Golan Heights observed a heavy fighting between the Syrian armed forces and armed members of the opposition in and around locations in the central part of the area of separation, UN spokesman Stephane Dujarric told reporters, according to Reuters.
"During the fighting, several mortars landed in or near United Nations positions," Dujarric said at a daily news briefing, adding, "The Israel Defense Forces (IDF) retaliated with fire."
"The UNDOF Force Commander, Iqbal Singh Singha, remains in contact with the Syrian authorities and IDF to urge restraint and prevent an escalation of the situation," the spokesman said.
One Israeli was lightly wounded by tank fire in the Golan Heights late Wednesday afternoon, after a possibly errant shell struck an Israeli community in the region.
The shell was fired from the Quneitra region of Syria, where intense fighting between the Syrian army and rebel forces had been raging all day.
Earlier on Wednesday six mortar shells careened into Israeli territory from the Quneitra area, lightly-to-moderately wounding an IDF officer and causing damage to several vehicles.
In response to the mortar shells, IDF artillery fired at a Syrian military position.
"From what we know, opposition forces overran the Syrian regime forces on the Syrian side of the Quneitra crossing, some of those including the Al-Nusra Front, which ultimately leave the crossing in the opposition forces' hands," Lieutenant Colonel Peter Lerner told AFP.
It is worth noting that Al-Nusra Front is an Al Qaeda-linked extremist group.
Lerner said the IDF has "substantial forces" on the ground and is prepared for any eventuality, with troops sealing off the area as a defensive measure.
"We have declared a closed military zone in the immediate area of the crossing and the roads leading to it. We are prepared for any potential spillover effect into Israel," Lerner said.
Late last month, an Israeli teenager was killed and several people were wounded after an explosive device was detonated near a passing vehicle along the border with Syria.
Israel said that military forces loyal to the regime of Syrian President Bashar Al-Assad were behind the cross-border attack, and struck nine targets belonging to the Syrian army in retaliation.