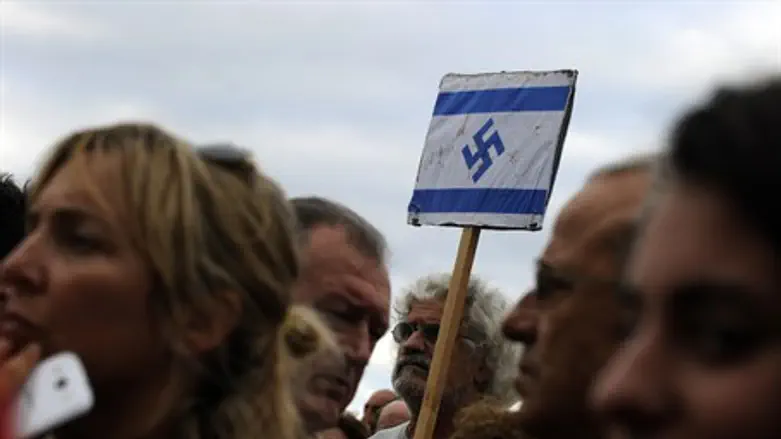 Anti-Israel demonstration in Spain (file)
Reuters
In a recent Friday sermon by a Muslim cleric in Azuqueca De Henares, Spain, the rampant anti-Semitism palpable in that country was put on display in rare fashion.
The Middle East Media Research Institute (MEMRI) on Monday translated the speech by Sheikh Saleheoldine El Moussaoui, who concluded his words with the rousing prayer: "Oh Allah, destroy the plundering Jews...count them one by one and do not spare a single one of them."
Using Israel's defensive Operation Protective Edge in Gaza as a launching point, Moussaoui remarked "the Jews are by nature treacherous and war-mongering. There can be no peace with the Jews. What peace are you talking about?"
"The Jews and the Zionists have treachery and killing as their way of life. They are a people of enmity and jealousy, the masters of treachery and betrayal," spewed the Spanish sheikh.
Moussaoui also quoted from the Quran, saying "they (the Jews) want to spread corruption in the land," and adding that Allah promised them "the torments of the burning fire."
Spain has been a focal point of anti-Semitism, with hundreds rallying in the country late last month against Israel, calling to "put fear" into the Jews. That call has been acted upon, with Israeli tourists being the target of a graffiti attack two weeks ago.
However, the outpouring of hatred against Jews does not seem to keep Spain from being in the sights of the extremist Islamic State (IS, formerly ISIS), which vowed last month that it would take over Israel, Rome and Spain.