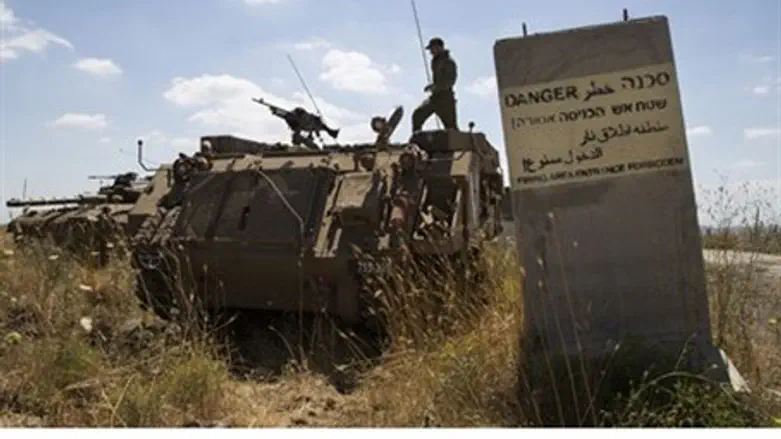 Syria border
Reuters
Pitched battles between Syrian president Bashar Assad's forces and rebels, in the area of Quneitra, spilled over into Israel Wednesday morning. Two mortar shells exploded in the Israeli Golan Heights.
They caused no casualties but damaged some vehicles. Shortly afterwards, an IDF officer was light-to-moderately wounded by what is believed to be stray gunfire from the battle in Quneitra.
IDF artillery fired at a Syrian military position in retaliation for the attacks.
Around 3 p.m. it was reported that opposition forces managed to take control of Al Rawadi, a village in Syria located in close proximity to the Quneitra Crossing to Israel. The fierce fighting between the Syrian army and opposition forces was continuing at full force, reports Yedioth Aharonoth.
Shortly afterwards a firefighting crew was dispatched to the Quneitra area to deal with a fire that broke out due to the mortar shells.
Nati Hajaj, spokesperson for the Israel Fire Department Northern Division, told Walla! that only one crew accompanied by IDF forces was sent due to the security risk. Additional firefighting teams are waiting for IDF permission to enter the area.
"If the fire spreads in a way that will endanger communities, I believe that we will press the army to bring forces into the area. I hope we won't need that," said Hajaj.
Agriculturalists have been instructed to leave the areas next to the border with Syria, for fear of being hurt by the fire. In addition, the Volcanic Park and the Emek Quneitra Observation Point have been closed off to tourists.
The echoes of numerous expolsions can be heard throughout the Golan as the rebel forces attempt to wrest Quneitra, Assad's last stronghold in the Golan, away from him. This is the rebel's second offensive in Quneitra. They have already seized most of the rest of the area bordering on Israel.
Rockets were fired at the Israeli Golan from Syria earlier this week. On Sunday night, sirens sounded in Israel communities in the Golan, and the remains of five rockets were found scattered in the area the next morning. The rockets caused no casualties and lightly damaged an electric cable.