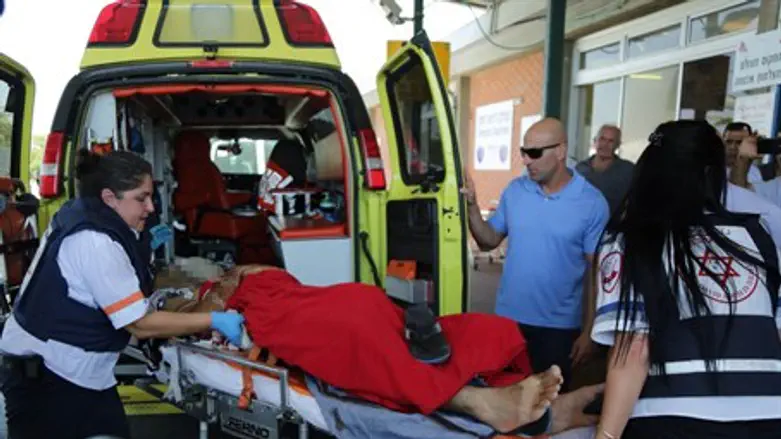 Mortar victim (illustration)
Flash 90
One of the victims of Tuesday's rocket attack on the Eshkol region was pronounced dead at the Soroka Hospital in Be'er Sheva on Tuesday evening.
This brings the death toll in that attack to two, as one person was critically wounded in the attack and shortly thereafter died of his wounds.
Five other people were wounded in the same attack.
The fatal attack came just as the Palestinian Authority (PA) claimed that Israel had agreed to a long-term ceasefire.
Just last Friday four-year-old Daniel Tragerman was likewise murdered by mortar shrapnel in his home in Kibbutz Nahal Oz.
Haim Yellin, head of the Eshkol Regional Council, lashed out at the government on Tuesday evening and said that locals will not return to their homes so long as the current situation continues.
"Maybe there is a ceasefire in Jerusalem, I have no idea what they are talking about," he told Channel 10 News, adding, "In Jerusalem they feel safe, even in some neighborhoods in Gaza they feel safe, but we certainly do not feel safe."
Yellin declared that no resident of Eshkol will be called to return to his home until he can determine that there truly is a ceasefire.
"No one is coming back, I do not care what the government says and what Hamas says. Until I know there is a real ceasefire and our security is guaranteed, no one returns," he said.
Turning directly to the cabinet ministers, Yellin said, "I invite them to come here with their entire families. Make the decisions from here. They need to understand what we have been going through for 14 years."