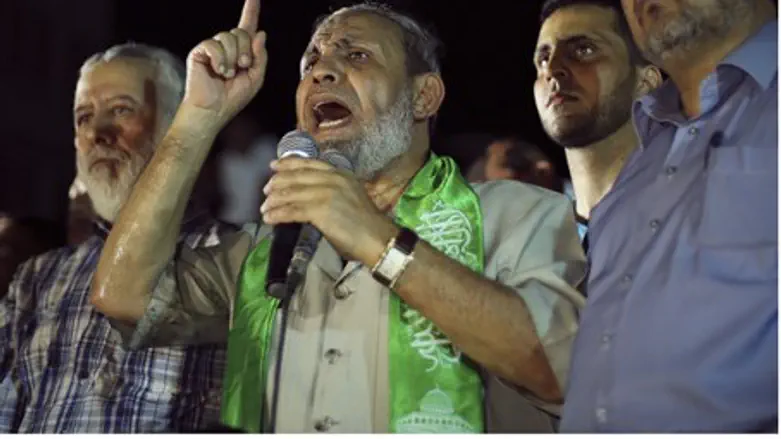 Hamas official Mahmoud al-Zahar at "victory r
Reuters
Several senior Hamas and Islamic Jihad leaders appeared in public on Tuesday shortly after a Gaza truce took hold, the first time they had done so since the conflict began on July 8.
Among them was Mahmoud al-Zahar, a senior member of the Hamas political wing, and senior Islamic Jihad leader Mohammed al-Hindi who gave a rousing victory speech to thousands of people gathered in a square in Gaza City's Rimal neighborhood.
"We're going to build our port and our airport, and if they attack the port, they attack the port. But anyone who attacks the airport will have their airport attacked again," Zahar said.
He was referring to a two-day suspension of flights into Tel Aviv by major US and European airlines in mid-July after a rocket from Gaza struck near the runway, in a move hailed as a victory by Hamas.
Zahar also said that in addition to rebuilding Gaza, Hamas would continue "arming itself and developing its resistance capacity."
The statement is significant given that the one Israeli demand in the truce talks has been a disarmament of Gaza, a demand that will be discussed in the next round of talks to be held in less than a month.
Hamas has already said that any truce would be so as to plan the next terror war on Israel.
The IDF's Operation Protective Edge was ended with Prime Minister Binyamin Netanyahu's acceptance of a ceasefire deal that will see a return to the status-quo established following the last serious escalation in 2012.
The decision to accept the ceasefire has triggered some controversy, with members of Israel's Security Cabinet split over the issue and some anger over Netanyahu's decision to use a legal technicality to avoid a cabinet vote.
Despite claims of "victory" by Hamas and Islamic Jihad, the two groups suffered significant losses during the conflict, including the assassination of three senior Hamas commanders last week.