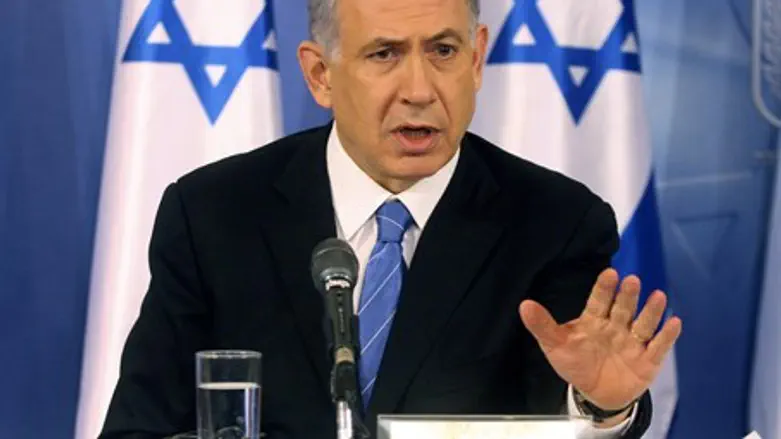 Prime Minister avoided cabinet vote
Flash 90
Roughly half the cabinet was opposed to Prime Minister Binyamin Netanyahu's decision to agree to an open-ended ceasefire with Hamas - but the decision was passed unilaterally by the PM anyway.
Government sources told Walla! news that a legal technicality meant the Prime Minister did not need to gain the approval of his cabinet to accept the ceasefire on Israel's behalf - but that had he done so, it is uncertain it would have passed due to the extent of opposition to it.
Immediately following the announcement, it was revealed that Economics Minister and Jewish Home part leader Naftali Bennett had opposed the decision.
Bennett challenged senior officials in the Prime Minister's Office to demand the acceptance of the ceasefire be contingent upon a Security Cabinet vote, according to the source, but was informed that legally the PM was not required to do so since the deal did not technically affect any change of legal status vis-a-vis the relationship between Israel and the Gaza Strip.
And Bennett was not the only minister opposed to the deal.
Foreign Minister Avigdor Liberman and Internal Security Minister Yitzhak Aharonovich (Yisrael Beytenu) also staunchly opposed the move, as they believe the ceasefire will not bring an end to attacks and will eventually be breached again, as previous similar agreements were, a party source told Walla!
Indeed the truce is based upon the same conditions as the one which followed 2012's Operation Pillar of Defense - which was broken by Gazan terrorists soon after.
Communications Minister Gilad Erdan, a member of Netanyahu's own Likud party, was also opposed to the ceasefire, according to reports.