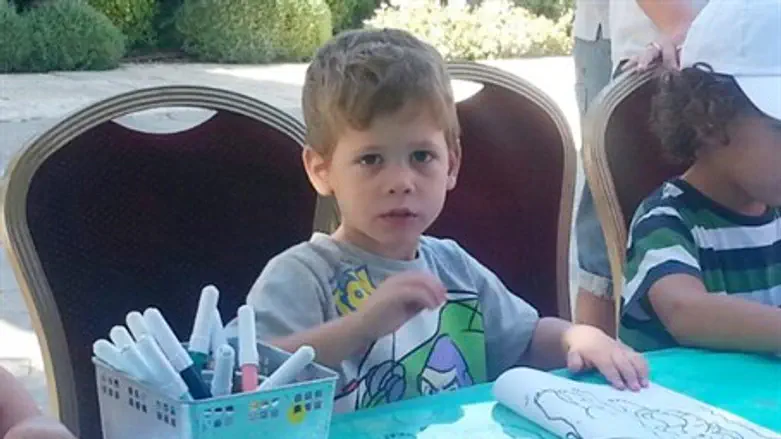 Daniel Tragerman hy"d
Flash 90
The southern kibbutz community of Nahal Oz will name a new residential neighborhood after Daniel Tragerman hy"d, the four-year-old murdered by a Hamas mortar shell Friday.
The neighborhood will include 40 housing units.
Doron and Gila, Daniel's parents, recounted their version of events during a noon press conference Monday.
"This deadly mortar shell struck after several explosions in the area," Doron said. "The code red alarm startled us all, and everything happened very fast."
"This time, you understand, it didn't strike in an open area [near the kibbutz], but just behind the wall [of the house]," he continued. "Daniel came out and I felt shrapnel pass very fast in front of me."
Gila said Daniel had been playing inside a tent in the living room and froze out of fear.
"Usually Daniel is the first to run into the shelter, but this time he froze in place," she said. "We had a terrible feeling about this alarm."
Finance Minister Yair Lapid (Yesh Atid) visited the Tragermans' home Monday afternoon during the shiva (mourning) period, and gave a special warning to Hamas.
"Hamas leaders should know that they will pay for the death of Daniel and what they are doing to the residents of the South," Lapid said upon leaving the Tragerman home, which is in Kibbutz Nahal Oz.
"There is something wrong in the world when you come to sit shiva with a family that has lost a four-year old," he added. "There are no answers."