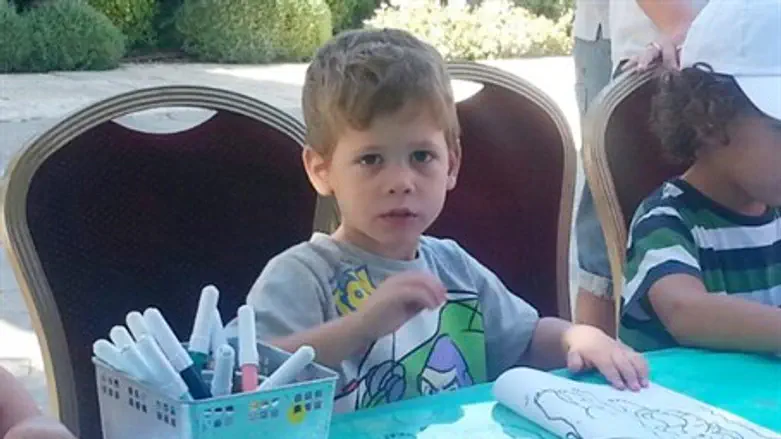 דניאל טרגרמן הי"ד
פלאש 90
Heavy mourning and difficult feelings pervade the family home of Daniel Tragerman, hy"d, the four year-old boy who was killed last Friday from fatal injuries after a mortar shell attack on his Nahal Oz home. 
Doron and Gila, Daniel's parents, recounted their version of events during a noon press conference Monday.
"This deadly mortar shell struck after several explosions in the area," Doron said. "The code red alarm startled us all, and everything happened very fast."
"This time, you understand, it didn't strike in an open area [near the kibbutz], but behind a wall," he continued. "Daniel came outside and I felt shrapnel pass very fast in front of me."
Gila said Daniel froze out of fear.
"Usually Daniel is the first to run in the shelter, but this time he froze in place," she said. "We had a terrible feeling about this alarm."
Both parents expressed their gratitude for the outpouring of love and support they have received since the rocket struck. 
"I have heard from a lot of people who do not know us, but who felt the need to identify with us and show support, and comfort, and said that they felt that Daniel is the child of us all," Gila stated. "They said that they saw the pictures of him and that they have exactly the same pictures of their children - riding a bicycle or playing with Lego - and equally it could be their child. "
Gila and Doron concluded the conference by noting that they - like many residents in the Gaza Belt - would not be returning to Nahal Oz at the end of the seven-day mourning period.
"We are trying to get out of this horror, and we leave Daniel behind us," they said.