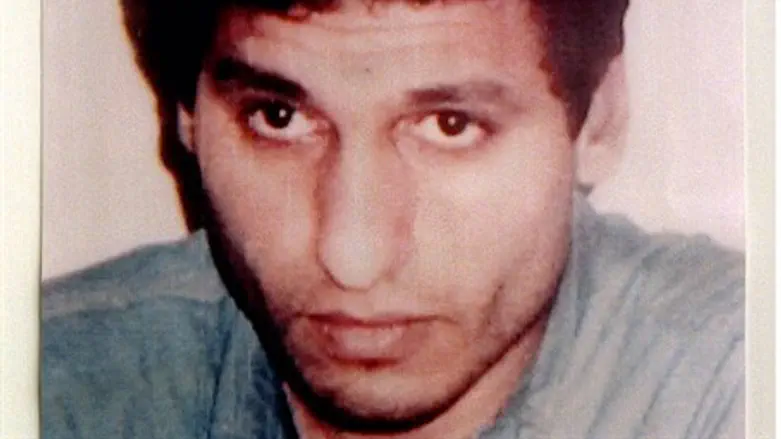 Hamas leader Mohammed Deif circa 1990s
Reuters
New information was revealed on Sunday in relation to the assassination attempt on Hamas's "military wing" Al-Qassam Brigades chief Mohammed Deif, in which his wife, son and daughter were killed last Tuesday.
While it was earlier reported that a phone call from Hamas politburo leader Khaled Mashaal in Qatar gave away Deif's location, Channel 10 reported on Sunday night that in fact his position was known three full days in advance of the strike.
What was the reason for the delay? According to the report, Israel was bound by a ceasefire with Hamas, the terrorist organization that has broken numerous ceasefires during Operation Protective Edge, including ceasefires they called for.
Israel's political echelon last week was presented with incriminating, irrefutable evidence that Deif had taken advantage of the ceasefire to visit his wife and children in a building in the Sheikh Radwan neighborhood in northwest Gaza, the report claims.
They were asked to make a decision whether to give a strike on the building the go-ahead or to block the rare opportunity to assassinate the slippery arch-terrorist responsible for planning numerous lethal attacks; they chose the latter option.
When Hamas breached the ceasefire last Tuesday with a three-rocket salvo on Be'er Sheva, Israel went ahead and attacked Deif's location that night. It remains uncertain whether the strike ended his life or not, as conflicting reports have surfaced with Hamas claiming he survived.
The decision to forego the airstrike has garnered criticism from several diplomatic sources, reports Channel 10, noting that during the three days Deif was given the opportunity to disappear again.
Other sources reportedly are defending the decision, saying "who will believe us and our agreements if we breach ceasefires? We aren't a state of pirates and cannot do things that are allowed for the other side."
This proposal of asymmetrical rules of engagement echoes previous "moral" arguments that have let Deif escape in the past; he currently has been targeted in no fewer than six assassination attempts by Israel.
Amos Yadlin, formerly the head of Military Intelligence, revealed last Thursday that in the last attempt in 2006 "instead of a one ton bomb, we decided to shoot two quarter ton bombs in order to avoid hitting innocent civilians. One of them didn't explode, and Deif survived."
Indeed, many soldiers have noted how Hamas's cynical manipulation of civilians has caused Israel to limit its actions and "sabotage" the operation. MK Moshe Feiglin (Likud) has blamed Israel's "misplaced pity" for Gaza residents as being responsible for the deaths of IDF soldiers.