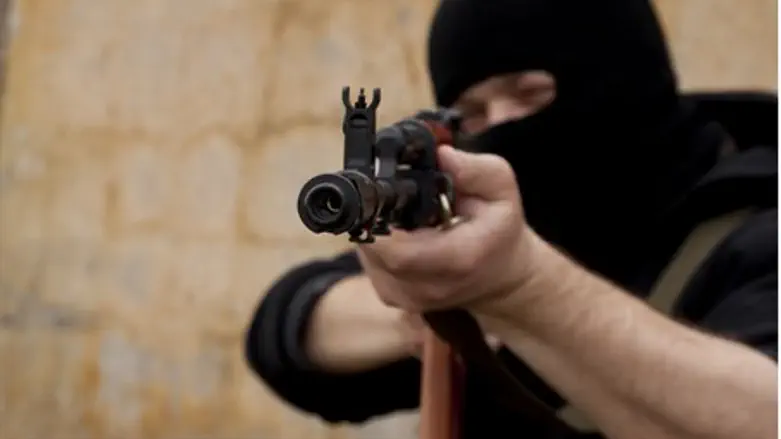 (Illustration)
Thinkstock
As Gaza terrorists kept up their rocket war against Israel on Friday, terrorists in the northern Jerusalem neighborhood of Shuafat apparently opened a salvo of their own, shooting at a Jewish home in the adjacent Pisgat Ze'ev neighborhood.
Police arrived in the neighborhood after receiving reports of gunshots heard from Shuafat.
A bullet was found at the doorway of a Pisgat Ze'ev home, having hit the home and fallen to the ground; no one was injured in the incident.
A search is being conducted by police forces in the area to try and locate the perpetrator of the shooting attack.
There has been a growing concern over rising terrorism from Palestinian Authority (PA) Chairman Mahmoud Abbas's Fatah faction, based on an ever more open call for terror by the group accompanied by numerous terror attacks.
Senior PA official Jibril Rajoub last Wednesday declared that his organization has made a "political decision" to support Arab terrorists "slaughtering" Jews living in Judea, Samaria and eastern Jerusalem, giving a free hand to terror.
The results of that "policy" have been witnessed in rising attacks, particularly in Jerusalem.
Two weeks ago on August 4 a soldier was shot in the stomach at the entrance to the Har Hatzofim (Mount Scopus) tunnel in Jerusalem; he suffered moderate to serious wounds.
Only several hours earlier that day, an Arab terrorist attacked a bus with a tractor, flipping it over and killing a 25-year-old hareidi kollel student as well as injuring several others. Police shot the terrorist dead while he was inside the tractor.
Even more recently, terrorists in Jerusalem conducted firebomb attacks on Tuesday, setting a bus and a Jewish house on fire just hours after Hamas breached its ceasefire with Israel.
Aside from Rajoub's comments, Fatah's "military wing," the Al-Aqsa Martyrs' Brigades, this month announced a full return to terrorism, declaring "open war" on the Jewish state.
That position is in line with the Palestine Liberation Organization (PLO) charter of 1968, which declared that "armed struggle is the only way to liberate Palestine," and called on local Arabs to "be prepared for the armed struggle." Following the charter, the PLO and Fatah were defined internationally as terror organizations, a status which was removed during the 1993 Oslo Accords process.