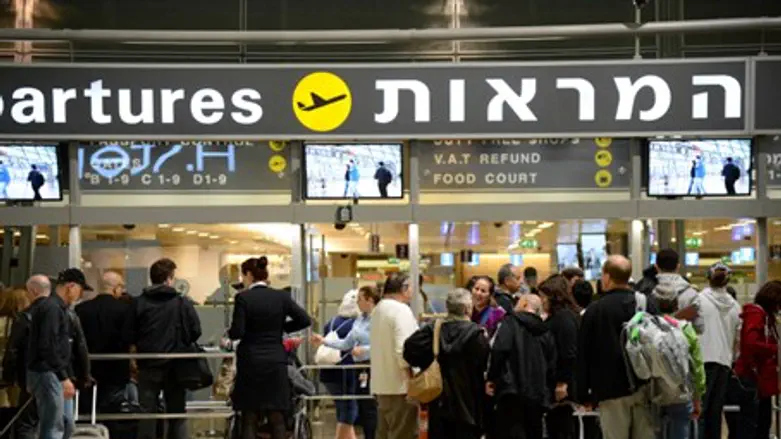 tourists at Ben-Gurion airport
Flash 90
The United States condemned Hamas on Thursday over its threats to harm innocent civilians, after the group threatened to target the Ben Gurion International Airport with rockets.
Deputy State Department spokeswoman Marie Harf also called on Hamas to stop the rocket fire and on both sides to resume negotiations on a long-term ceasefire.
"We also condemn Hamas's targeted attack on Ben Gurion Airport and Hamas's threat against civilian aviation. So that's something that is unacceptable," she told reporters during a press briefing.
"The rocket fire needs to stop. And we do want them to return to ceasefire talks, so that is something we are certainly still pressing with relevant parties," added Harf.
Hamas's "military wing" warned foreign airlines on Wednesday against flying into Tel Aviv, threatening to step up its six-week conflict with Israel after firing more than 100 rockets on Israeli civilians and pulling out of peace talks.
The group threatened to target the airport at 6:00 a.m. Thursday, but that deadline passed and the airport continued to operate as usual.
Hamas's threat was yet another 'scare attempt' aimed at harming Israel's economy and security reputation. Last month, a rocket hit near the Ben Gurion Airport, scaring international airlines into canceling flights for several days. 
The cancelations followed a U.S. Federal Aviation Administration (FAA) ban on American carriers flying to Israel; several European companies followed suit, as had those from Turkey and Jordan. Israeli national carriers maintained their usual flight schedules. 
Overall, however, the move was hailed as a "great victory" for the terror group.
"The success of Hamas in closing Israeli airspace is a great victory for the resistance, and is the crown of Israel's failure," Hamas spokesman Sami Abu Zuhri said last month.