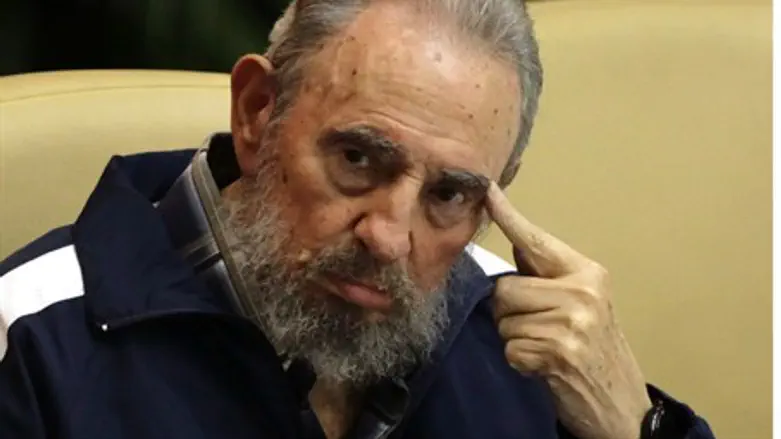 Former Cuban dictator Fidel Castro
Reuters
Venezuelan President Nicolas Maduro, who took power after dictator Hugo Chavez died last March, made a surprise visit to Cuba on Tuesday to meet with the former Cuban despot Fidel Castro and bash Israel for its defensive operation in Gaza.
"I congratulated Maduro for his extraordinary solidarity with the heroic people of the Gaza Strip," the 88-year-old Castro said after the meeting, reports AFP. Castro handed the reins of power in 2006 to his brother Raul due to health issues.
The former Cuban dictator said that Maduro, who recently sent 12 tons of humanitarian aid to Gaza, took action "as soon as news arrived of the genocide and the high number of children, mothers and (other) people wounded or murdered by Israel's genocidal attacks."
In fact Hamas has been actively conducting a propaganda war against Israel, skewing the proportion of civilian casualties and forbidding an independent appraisal. The IDF has reported that roughly 50% of the casualties are terrorists, making for a 1:1 ratio of civilian to combatant deaths, despite Hamas's attempts to maximize Gaza civilian deaths by firing rockets from civilian neighborhoods.
"The genocide being carried out in the Gaza Strip...is one of the most dramatic events" in history, Castro claimed, terming Israel "a nuclear power that is at once sophisticated and irresponsible. The chaos in world politics has become evident. That's why my meeting with the Venezuelan president was so useful."
The two socialist states of Venezuela and Cuba maintain a tight alliance, and Castro said the visit, which was unannounced by either government, was made by Maduro during a "foreign trip regarding the defense of his country's major oil interests."
Castro recently led a group of international dignitaries signing a manifesto "supporting Palestine," which demanded that Israel withdraw from "Gaza, the West Bank and East Jerusalem."
For his part, Maduro has kicked out US diplomats and floundered amid local unrest opposing his autocratic rule. He has continued Chavez's friendship with Iran, while being an outspoken enemy of the "repressive state of Israel."