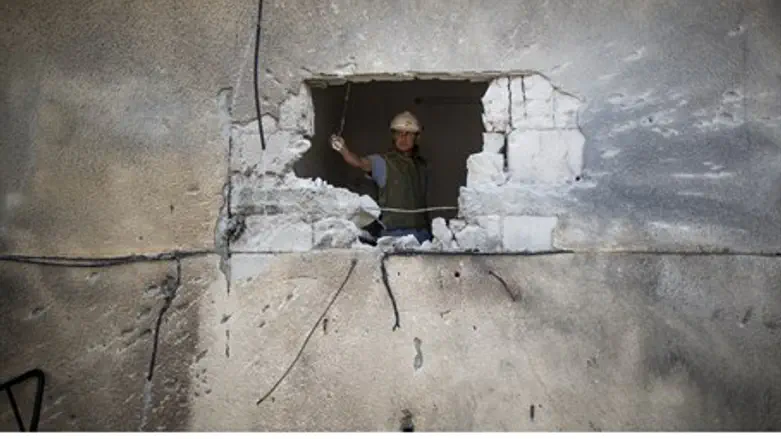 Rocket damage in Sderot (file)
Flash 90
Sderot Mayor Alon Davidi issued harsh words for Hamas Wednesday, after spokesman Sami Abu Zuhri reportedly said that "only [terror leader Mohammed] Deif will decide whether Gaza Belt residents return home." 
"Hamas does not determine the lifestyle of Israeli citizens," Davidi fired. "It cannot be that Hamas still thinks it's making decisions here." 
"Hamas's words have ignored the fact that Sderot's residents have refused to leave their homes - and will not, no matter what," he added. 
"We must defeat terrorism once and for all and stop the rocket fire completely," he continued. "We must hit Hamas hard. Only when Hamas leaders understand that they and their families are being targeted will they stop the rocket fire at us."
Davidi's words follow confusion over the status of Deif, who is the head of Hamas's "military wing," the Al-Qassam Brigades. 
Deif is responsible for multiple suicide attacks on Israelis during the nineties, for kidnapping several IDF soldiers - including Nachshon Wachsman, hy"d - and for upgrading Hamas's rocket arsenal for attacks on Israeli civilians. 
He was rumored killed in an IAF airstrike on his home early Wednesday, although Hamas continues to deny his death. The same strike killed Deif's wife and son. 
The Gaza Belt has been the target of much of Hamas's rocket fire from Gaza.  
Earlier in the conflict, Hof Ashkelon Regional Council Yair Farjun noted that 60% of residents in communities close to Gaza have fled their homes.
In addition, polls in several Israeli media outlets estimated that up to 80% of Gaza Belt residents have expressed reluctance to return home following the rocket fire, and following diminished trust in the IDF after it withdrew guards from the communities earlier this year.