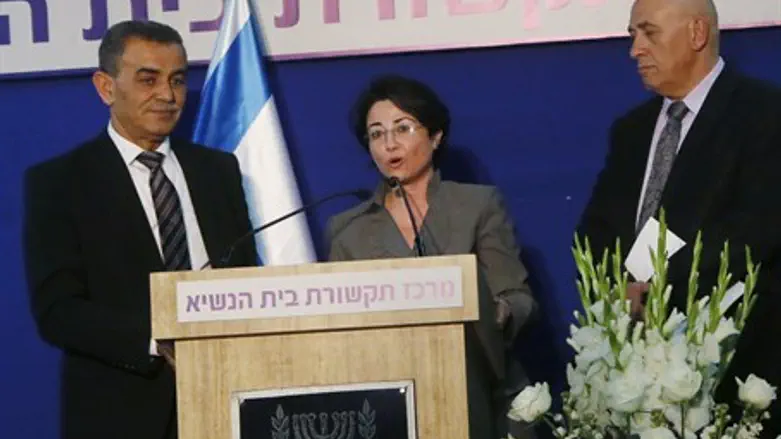 Balad MKs
Flash 90
The Calcalist financial newspaper reported on Tuesday that former MK Azmi Bishara's research center was the source of funding for the recent trip to Qatar by Balad MKs.
The three Balad MKs reportedly met Bishara while in Qatar, where he has been hiding after passing information to Hezbollah in the 2006 Second Lebanon War, helping direct their missiles at Israeli citizens.
According to Calcalist, following a request that the Knesset's Ethics Committee investigate the trip, the three MKs - Hanin Zoabi, Jamal Zahalka and Basal Ghattas - submitted a letter saying that it was the Arab Center for Policy Studies, founded by Bishara, that funded their trip.
The report said that the information was given to the Ethics Committee after the MKs' trip, even though according to the procedure they are required to present this information before the trip and have it approved.
The trip to Qatar was met with great backlash, and Foreign Minister Avigdor Liberman said the trip "proves again decisively to those who were still uncertain, that their place is not in the Israeli Knesset."
"While Israel is still in a fierce campaign against the terrorists from the Hamas organization, Balad MKs traveled to Qatar and demonstrated support for (Qatar-based Hamas leader) Khaled Mashaal and his comrades," added Liberman.
Liberman stated that in the past his party "petitioned the Central Elections Committee to outlaw Balad from running for the Knesset, but the Supreme Court rejected the petition."
"We will continue and do whatever possible so that this fifth column list representing the terror organizations in the Israeli Knesset will find itself far from the house of representatives and behind lock and key," declared Liberman.
Responding to the report that Bishara's research center funded the MKs' trip, MK Yifat Kariv (Yesh Atid) said, "Tonight it was proven, as I argued about a month ago, that Azmi Bishara who has been recognized as a traitor continues to operate within the state of Israel."
"Bishara leads, facilitates and finances the three Balad MKs. The Attorney General must quickly investigate the issue and I once again call on the chairman of the Ethics Committee to convene the committee to discuss the matter urgently," she added.