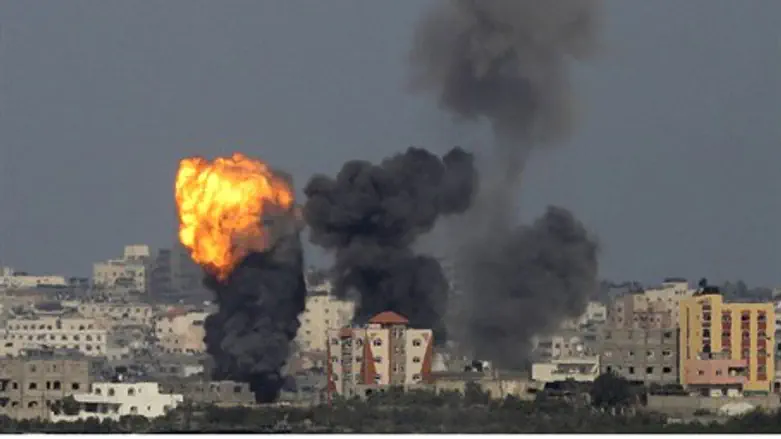 Israeli airstrike in Gaza
Reuters
Hamas leader Moussa Abu Marzouk accused Israel on Tuesday night of having trying to eliminate the head of the group's "military wing", Mohammed Deif, in one of its airstrikes on Gaza.
According to Reuters, Marzouk said Israel had broken the truce that was supposed to expire at midnight in order "to assassinate Mohammed Deif," but that civilians were killed at the site of the attack.
AFP reported that Marzouk said the airstrike killed Deif's wife and child.
"The wife of the great leader was martyred with his daughter," in the strike, he wrote on Facebook while saying nothing about the fate of Deif himself.
Local health officials quoted by Reuters said three people were killed in a strike on a house in Gaza City, including a child and a woman. The third victim was not identified.
Earlier Tuesday, Hamas declared Israel had "opened the gates of hell" by launching an airstrike on a home in Gaza.
The group warned that the price Israel will pay "will be a heavy one".
Deif  is considered the official who determines the agenda of the Izz ad-Din al-Qassam Brigades and is regarded as the "brain" behind Hamas. He is likely hiding underground somewhere inside Gaza, fearing the IDF will try to eliminate him.
There were also reports in late July that an Israeli airstrike in Gaza had targeted Deif's home.
From his hiding place, Deif recently declared that the only way to reach a ceasefire in Gaza is for Israel to end its "siege" on the coastal territory.
"The firing will stop only if the [Israeli] aggression ends only if and the blockade is lifted. The Zionist entity will not enjoy security if our people cannot live in freedom and dignity," he declared.
Deif referred to Israel's operation in Gaza as a "barbaric attack" which includes killing children.
He has been targeted for assassination by Israel in the past, including one air strike in which he lost both his legs.