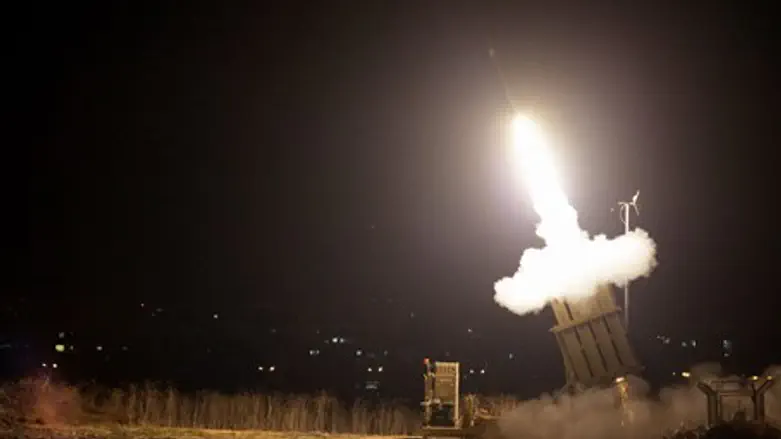 Iron Dome in action
Flash 90
Gaza terrorists kept up their rocket assault on Israel Tuesday night by firing a rocket barrage on the southern and Gush Dan central region several minutes before 11 p.m.
At least one rocket reportedly hit open ground in Tel Aviv; another five hit open land in Be'er Sheva. Another rocket was reportedly shot down over central Israel.
Sirens were sounded in the Gush Dan region, the Shfela coastal plain, Ashdod, Be'er Sheva and various areas near Gaza.
Sirens were heard shortly thereafter in the city of Beit Shemesh to the west of Jerusalem and and in parts of Judea, to the south of the capital.
Two rockets were intercepted by the Iron Dome anti-missile system over Sderot. Two more rockets were intercepted over Be'er Sheva.
Two rockets exploded in the Eshkol region of southern Israel shortly after 11:30 p.m. They exploded in open areas, causing no physical injuries or damages.
Hamas's "military wing", the Ezzedine Al-Qassam Brigades, reportedly claimed the rocket barrage, saying it fired domestically-produced M-75 and Iranian-supplied Fajr 5 missiles at the Gush Dan region.
With the temporary ceasefire in tatters and set to splutter to a close just over an hour from now, the IDF Homefront Command has ordered all public bomb shelters to be reopened in communities located between 40-80 kilometers from Gaza.
The directives indicated fears that Hamas would once again begin launching long-range rockets at major Israeli population centers, including central Israel and the Jerusalem region - fears which just minutes later were proven to be well-founded. Areas effected by the order include all Negev communities, the Beit Shemesh area, the Shomron (Samaria), Judea, Gush Dan and central Israel, Jerusalem, the Jordan Vallet and the Sharon Region, among others.
The Homefront Command have also issued updated directives to communities closer to Gaza, who have already been under fire since terrorists breached the ceasefire earlier Tuesday. Until now, only short and medium-range rockets and mortar shells have been used, but that is likely to change once the truce officially ends at midnight.
In communities between 0-7 kilometers from Gaza, the army has banned gatherings of 300 people or more. In communities within 400 kilometers of Gaza, gatherings of 500 or more have been banned.