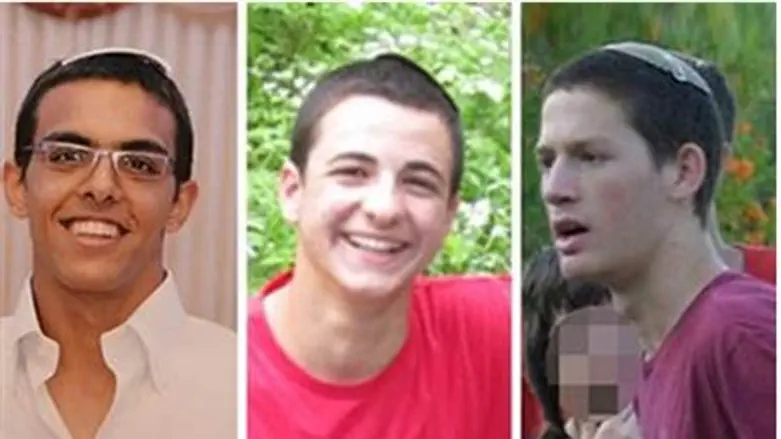 Murdered (L to R): Eyal Yifrah, Gilad Sha'ar,
courtesy of the families
The official Palestinian Authority (PA) daily newspaper has accused Israel of making up the abduction and murder of Naftali Frenkel (16), Gilad Sha'ar (16) and Eyal Yifrah (19) hy''d on June 12 by Hamas terrorists as an excuse to launch Operations Brother's Keeper and Protective Edge.
In an op-ed this Saturday by Yahya Rabah, a regular columnist for the PA daily Al-Hayat Al-Jadida, the claim was made that Israel invented the horrific murders as a "pretext." Palestinian Media Watch (PMW) revealed and translated the piece.
"We are now at the beginning of the third month of the broad Israeli aggression against our people, its unity, its reconciliation and its national project. The occupation (i.e., Israel) planned this aggression, which began on June 12, after the failure of peace negotiations (with the PA)," wrote Rabah.
The PA daily columnist asserted "the aggression began on June 12 following a fabricated event for which no one took responsibility, that is, the kidnapping and murder of three Israeli teens."
While Hamas has not publicly claimed responsibility for the abduction and murder, it has openly bragged of committing it in a music video broadcast on TV July 16 and repeatedly re-broadcasted since, which was exposed by PMW.
In the video, the lyrics "under the rock, O hawk/ hide your prey - a child" make reference to the abduction and hiding of the bodies of the three in a pit located in a field near the Arab village of Halhul to the north of Hevron.
"You are from Hevron, O hawk, and all are proud of you" the song continues, directly indicating the Hamas terrorists who conducted the attack and who hailed from Hevron.
Marwan Kawasmeh and Amar Abu-Eisha physically carried out the attack and are still at large; Hussam Kawasmeh has already been arrested for planning the attack, while another Kawasmeh brother, Mahmoud Ali, reportedly is still at large in Gaza.
Indeed there is no shortage of evidence regarding the murder: the fatal gunshots can be heard in a recording of the emergency call to the police made by Gilad on the night of the murder, in which the murderers can be heard talking and even, chillingly, singing.
Rabah's claims that Israel conducted "aggression" against unity between Hamas and the PA come a day after a gag order was lifted Monday on reporting that the IDF and Israel Security Agency (ISA) from May to August foiled a Hamas plot to carry out a coup on the PA in Judea and Samaria.