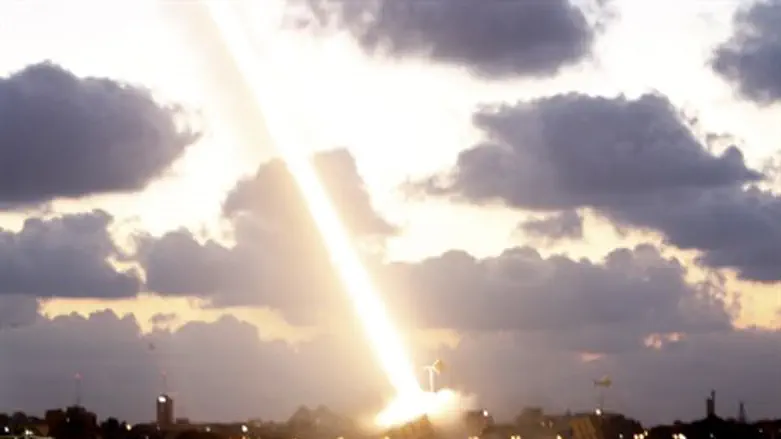 Iron Dome intercepting a rocket (file)
Flash 90
Roughly two-and-a-half hours after three rockets were fired at Be'er Sheva from the Hamas enclave of Gaza on Tuesday in breach of the ceasefire agreed between the sides, terrorists in the area reportedly continued their fire on Israel.
There are conflicting reports as to whether mortar shells or a rocket hit open ground in the Sedot Negev Regional Council area; there were no injuries or damage reported in the attack.
All reports agree that rocket sirens were not sounded in the area before the attack hit.
Just minutes after the Sedot Negev strike, "Color Red" rocket sirens were sounded in Netivot and the Gaza Belt area. Iron Dome reportedly shot down two missiles over Netivot. A third rocket reportedly hit open ground in the Sedot Negev region.
Just after 8 p.m. another rocket reportedly struck open ground in the Ashdod region, causing no damage or injuries; minutes later rocket warning sirens sounded for the Hof Ashkelon Region area, right before a rocket slammed into open ground in the region.
Another rocket hit the same area shortly before 9:30 p.m., landing in a shopping center and reportedly causing damage but no injuries.
As the terrorists renewed their attacks, a troubling pattern was observed in the rocket warning sirens.
In the first round of three rockets on Be'er Sheva no sirens were sounded ahead of the strikes. Shortly afterwards sirens were sounded in the Eshkol Regional Council area, only for the IDF to clarify that the sirens were a false alarm.
In all, a total of eight rockets had been fired from Gaza Tuesday, with six falling on Israeli territory and two intercepted by the Iron Dome, according to the IDF.
Meanwhile, the chief Palestinian negotiator conducting indirect talks with Israel for a long-term Gaza truce said there had been "no progress," with less than five hours to go before a temporary ceasefire expires. The Palestinian delegations presented their demands for a truce to Egyptian mediators and were awaiting Israel's response, said the official, Azzam al-Ahmed.
"There has been no progress," he said of Tuesday's talks. "Matters have become more complicated."
Bracing for the next round
Thousands of Arab Gaza residents have reportedly begun fleeing their homes in eastern Gaza City after the rocket breach and IAF retaliatory airstrikes, reports AFP.
One reporter for the French news agency stated that hundreds of residents were leaving the Shejaiya neighborhood, where some reports indicated the initial rocket fire had emanated from. Thousands more were leaving Zeitoun and Shaaf, according to witnesses.
Hamas has not claimed responsibility for the renewed barrage of fire on Israeli civilian centers, but Hamas spokesperson Moshir al-Masri hinted responsibility in saying "if Israel wants calm, it must answer to the demands and rights of the Palestinians."
The statement appears to suggest the rockets were fired by Hamas to try and press Israel to submit to its demands, which include releasing terrorists, as well as allow the establishment of a Gaza sea and airport.
Indeed, Hamas has already declared that it is holding the truce talks with Israel being held "at gunpoint," and elaborated that any truce agreement would only be so as to plan the next terror war on Israeli citizens.