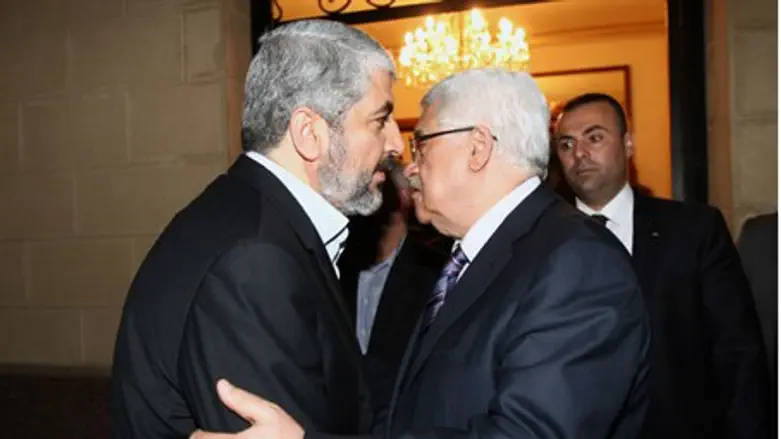 Hamas's Mashaal with Mahmoud Abbas
Flash 90
Palestinian Authority (PA) Chairman Mahmoud Abbas will travel to Doha on Wednesday and hold talks the next day with the emir of Qatar and Hamas exiled leader Khaled Meshaal, the Palestinian ambassador in Qatar told AFP Tuesday. 
Abbas's visit to Qatar was initially announced for Monday by Palestinian officials who are in Cairo for indirect talks with Israel on a lasting truce in Gaza.
Abbas will on Thursday discuss separately with Meshaal and Sheikh Tamim bin Hamad al-Thani latest developments in the negotiations in Cairo and "aid and reconstruction" in Gaza, Palestinian ambassador Monir Ghannam told AFP.
From Doha, Ghannam said Tuesday, Abbas will travel on to Cairo as part of contacts the Palestinian leadership is staging "with all the parties concerned" in the Israel-Palestinian conflict.
The meeting follows both the last-minute extension of a 5-day ceasefire between Israel and Hamas - and rumors of Israel agreeing to some of Hamas's unprecedented demands for a lasting truce - and the revelation that Hamas recently staged a coup in Judea-Samaria.
On Monday, it was cleared for publication that the Hamas headquarters in Turkey ordered a large-scale coup of Abbas's new PA government by destabilizing the political and security situation through a series of terror attacks on Israelis. 
Ninety-three (93) terrorists were arrested in an IDF/ISA counterterror operation and large weapons caches and funds were seized. 
Later Monday, Abbas said the information could have lasting implications for the Palestinian Arab people.
"This new information is a real danger to the unity of the Palestinian people and its future," Abbas stated, according to Channel 2 News.  
He stressed that the implications of the discovery "will be serious for the Palestinian and regional situation, especially after Israeli officials published a list and pictures of confiscated weapons."
The unity government itself has been slowly crumbling over the past two months, after differences of opinion have surfaced over several issues, including the war in Gaza, reactions to the abduction and murder of three Israeli teenagers, and the delayed payment of wages for government workers in Gaza in the weeks leading up to the current conflict.