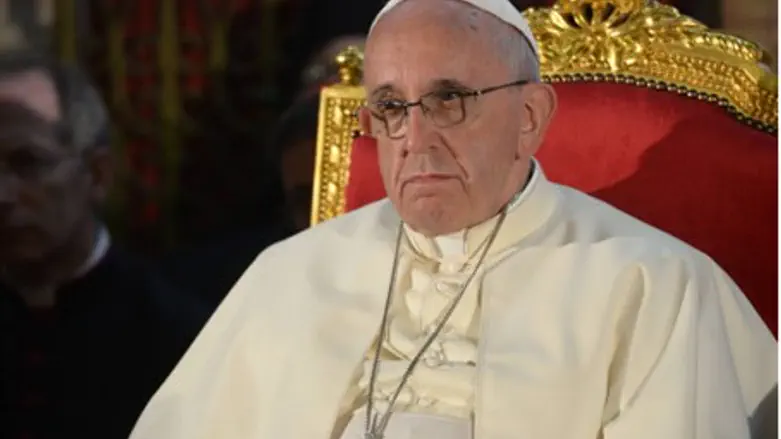 Pope Francis in Jerusalem
Flash 90
Pope Francis believes that he still has a maximum of three years left to live, he told reporters Monday, and indicated that he is considering early retirement. 
"Another two or three years, and God will take me," Francis said, speaking to reporters on his way back to the Vatican from South Korea. According to reporters on the plane, the pope was generally in high spirits despite the grim prediction. 
Francis, 77, was elected in March last year. The current Pope has not been in the best of health throughout his life; he lost one of his lungs in his 20s after a serious illness, and has undergone several surgeries in recent years. Vatican officials have hinted in the past that Francis may also have trouble walking.
However, Monday night was the first time Francis himself spoke about his medical condition in public.
The Pope said that he might resign in future, "even if it is not received favorably by some theologians."
He said that 60 years ago, Catholic bishops "would not dare to even think about such a possibility," but today the situation is different.
"Benedict the 16th opened the door," Francis said, mentioning his predecessor, who resigned unexpectedly due to his unstable health condition.
So far, Pope Francis's tenure has been marked by a controversial visit to Israel earlier this year, whereby the pope called the Palestinian Authority (PA) the "state of Palestine" and then made an unexpected stop at the security barrier between Jerusalem and Bethlehem to pray at a section with "Pope we need to see someone to speak about justice. Bethlehem look like Warsaw ghetto. Free Palestine" spray-painted on it.
In terms of world affairs, Francis has proposed a number of revolutionary ideas to reform the Church, including a "zero-tolerance" policy toward sex abuse in the Catholic Church and urging the Vatican to embrace the poor.