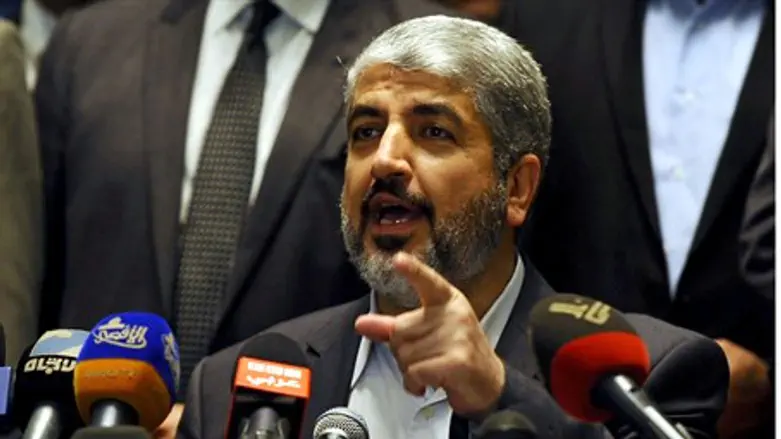 Hamas' leader in exile Meshaal
Reuters
Hamas has sounded a belligerent tone as negotiations for a long-term truce continue in Cairo.
In a message posted on his Facebook page, Hamas's "foreign affairs" chief Osama Hamdan said the Islamist terror group rejects the current Egyptian proposal, and pledged a "long war" of attrition against Israel.
"Israel must accept the demands of the Palestinian people or face a long war," he said.
Other Hamas officials issued similar statements over the course of Saturday.
Hamdan's Facebook message was posted not long before a message on the Twitter account of the "military wing" of Hamas, the Ezzedine al-Qassam Brigades, in which the group vowed to continue its armed "struggle".
Meanwhile, speaking to Al Jazeera, Hamas's Qatar-based leader Khaled Meshaal blamed Israel for starting the recent fighting in Gaza.
"This is a battle that we have not chosen to fight, it was forced upon us," Meshaal said. "It was the Israeli occupation that started the aggression. It brought the events that happened two months ago in the West Bank to Gaza for its own domestic calculations. It wanted to take revenge on Hamas and the Palestinian people in Gaza. We have defended ourselves."
Meshaal also added that his group wasn't interested in further temporary ceasefires, and demanded Israel give in to all of its demands.
"We do not wish to play the game of keeping the calm with the aim of wasting time. We want serious negotiations that lead to an end of the aggression on Gaza and granting the Palestinian demands."
Meshaal emphasized that Hamas was not willing to drop a single one of its demands, including the opening of air and seaports and the total lifting of all restrictions on imports into Gaza, which Israel has leveled in order to prevent the smuggling of weapons
Watch full interview here: