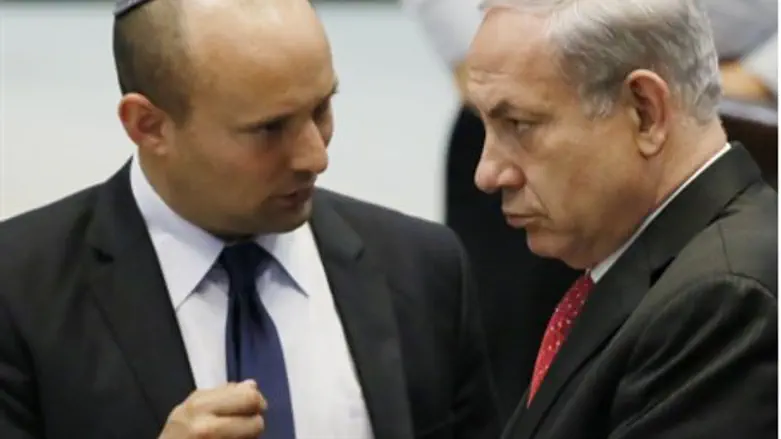 Naftali Bennett and Binyamin Netanyahu
Flash 90
The latest Knesset Channel poll indicates that the nationalist and religious bloc would surge if elections were held today.
The poll gives Likud 28 seats (up from 19), the Jewish Home 19 (up from 12), Yisrael Beytenu 9 (down from 12), Shas 7 (down from 11), United Torah Judaism (UTJ) is unchanged at 7.
All in all, the nationalist-religious bloc is at 70 seats – up 9 from its current 61 seats, which gives it a bare majority in the Knesset.
Also in the poll, Yesh Atid is clipped down to 11 seats from the current 19, Hatnua is at 4 seats, down from the current six, Meretz has 10 (up from 6) and Labor remains at 15. Kadima is wiped off the political map.
Israelis continue to favor Binyamin Netanyahu for prime minister. Thirty percent see him as the politician best suited for the role. Jewish Home leader Naftali Bennett is in second place with 16%. Labor head Yitzchak Herzog has 11%, whereas ministers Avigdor Liberman and Tzipi Livni each enjoy 6% support. Yair Lapid is at a meager 3%, along with Defense Minister Moshe Yaalon.
The Jewish Home party has finished in second place in five of the six polls conducted since the start of Operation Protective Edge (Dialog, Smith, Midgam and Panels).
Israelis also graded various officials for their conduct during Operation Protective Edge. IDF Chief of Staff Lt. Gen. Benny Gantz (77% favorable vs. 19% unfavorable) & Defense Minister Yaalon (57% vs. 36%) scored higher than Prime Minister Netanyahu (56% vs. 39%). Economy Minister Bennett (50% vs. 43%) was the only party leader with higher favorable numbers than unfavorable. He outmaneuvered the other coalition party leaders, Foreign Minister Liberman (40% vs. 54%), Justice Minister Livni (39% vs. 50%) and Finance Minister Lapid (35% vs. 57%).
To the question: "Are you pleased with the conduct of Prime Minister Netanyahu during the Cairo negotiations?" 52% responded "no" and only 33% responded "yes."
Jeremy Saltan, a Jewish Home party insider who served as the party's English-language campaign manager in the last elections, told Arutz Sheva: "It is clear Israelis are looking for defense and security. As Operation Protective Edge goes on, Jewish Home is providing a true nationalistic voice for many Israelis who are looking for a stronger response and the toppling of Hamas."