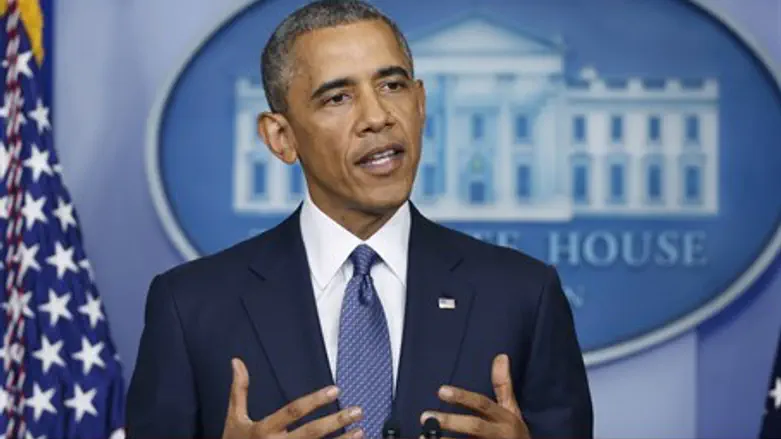 U.S. President Barack Obama makes a statement
Reuters
U.S. President Barack Obama on Wednesday told Prime Minister Binyamin Netanyahu that it was important to reach an agreement on a permanent ceasefire in Gaza.
The two spoke by telephone before the 72-hour ceasefire expired and before it was announced that it was extended for five more days.
"The President reaffirmed the United States' support for Egypt's mediation efforts and underscored the importance of achieving a sustainable outcome that ensures Israel's security and addresses Gaza's humanitarian crisis," said a White House statement following the phone call.
Hamas violated the 72-hour ceasefire three hours before it was set to expire, firing rockets towards southern Israel.
Later, as reports came in that the ceasefire was extended for five days, Hamas continued with another rocket barrage towards southern Israel.
Israel retaliated to the rocket fire by launching airstrikes against Hamas targets in Gaza. Hamas responded by declaring that Israel violated the ceasefire and would pay the price for doing so.
During Operation Protective Edge, it was reported that Obama had placed heavy pressure on Netanyahu to concede to Hamas's unprecedented demands for a ceasefire.
In a leaked transcript of the phone conversation between the two, Obama appears downright hostile at points, and even cuts off Netanyahu in the middle of his protestations over the one-sided truce proposal.
Israel said that the leaked transcript "bore no resemblance to reality."Deputy State Department spokeswoman Marie Harf also brushed off the leaked transcript, saying it was as "complete cr*p".