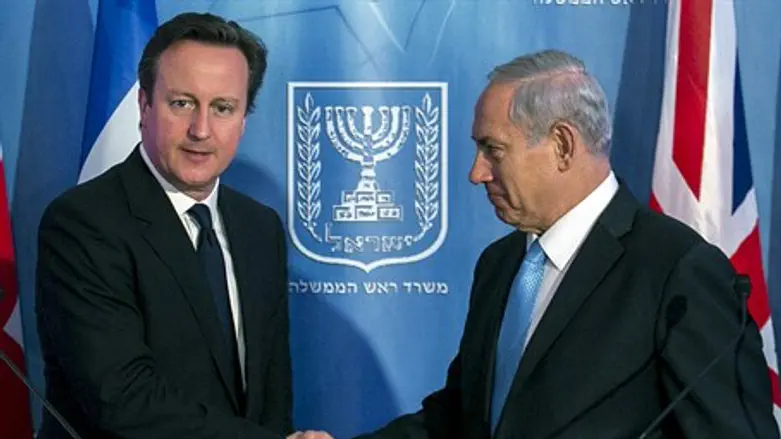 Binyamin Netanyahu and UK counterpart David C
Flash 90
The UK on Tuesday threatened to suspend 12 arms export licenses to Israel if the fighting in Gaza starts up again, a day before the current 72-hour ceasefire with the Hamas terrorist organization ends on Wednesday at midnight.
The announcement was made by British Business Secretary Vince Cable, an MP of the Liberal Democratic party. The suspension would affect exports of components for radar systems, fighter jets and tanks, reports the UK's Huffington Post.
Speaking Tuesday, Cable said "the UK Government has not been able to clarify if the export license criteria are being met. In light of that uncertainty, we have taken the decision to suspend these existing export licenses in the event of a resumption of significant hostilities."
There has been talk of tougher British arms export measures to Israel after UK Deputy Prime Minister Nick Clegg last Tuesday supported the suspension of arms exports to Israel. The call came after Baroness Sayeeda Warsi, a British minister who was the first Muslim woman to sit in the Cabinet, resigned over the British government's policy on Gaza.
The UK has reportedly exported £42 million ($70.5 million) in arms to Israel since 2010.
Cable's Business department clarified that the "vast majority" of UK exports to Israel were "not for items that could be used by Israeli forces in operations in Gaza in response to attacks by Hamas."
It is worth noting that the European Union (EU), which the UK is a member of, includes Hamas on its list of terrorist organizations. That listing specifically includes both "Hamas" and "Hamas-Izz al-Din al-Qassem," meaning that both the military and governmental branches of Hamas are recognized as terror groups by the EU, and consequently by the UK.
Despite the fact that Operation Protective Edge is being fought to defend Israeli civilians from a terror war launched by Hamas, some in England apparently felt that Cable's threat to punish Israel didn't go far enough.
Andrew Smith of the Campaign Against Arms Trade called the threat "a very weak position" that "will be seen as a sign of political support for the Israeli government." He demanded a "full embargo on all arms sales to Israel as well as an end to all military-industrial collaboration with Israel."​