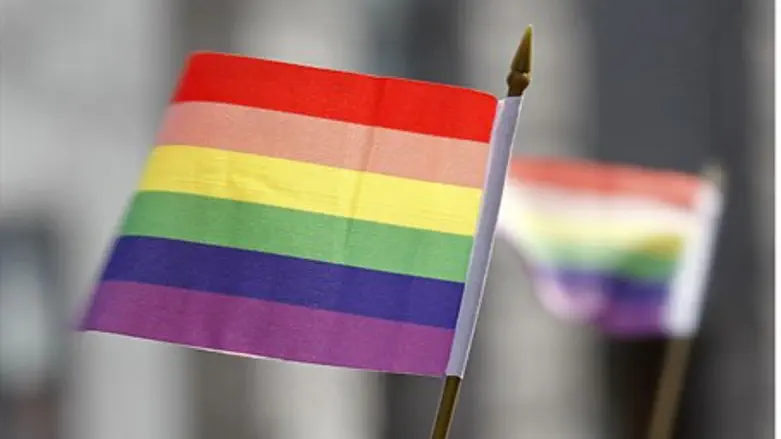 Gay Pride Flag
Reuters
Israel's Right of Return also gives citizenship to spouses of the same sex when Jews choose to immigrate to Israel together, Interior Minister Gidon Sa'ar (Likud) decided Tuesday. 
According to Sa'ar's decision, gay and lesbian Jews married abroad wishing to immigrate to Israel could do so - even if one of the partners is not Jewish - and both would receive Israeli citizenship. 
"The gates of Israel will be open to every Jew and his family without any discrimination against his lifestyle," Sa'ar stated, in the precedent-setting decision. 
Sa'ar penned a letter to the Ministry of Immigration and Absorption codifying the law, writing that "the business of the Law of Return is an issue of kibbutz galuyot, bringing the Jewish people from exile, and the purpose of the 1970 amendment to Right of Return was to allow the families of Jews to immigrate to Israel as well, as equals, to encourage immigration in general." 
"I see no basis for distinguishing between heterosexual marriage married Jews, and Jews living abroad in same-sex marriages, according to the law," he continued. "Both fulfill the purpose of the Right of Return, to 'bring their children home' ." 
The landmark decision surfaces amid ongoing tension over what defines a "family" in Israel, and as debate rages over whether or not same-sex marriages should be recognized in Israeli law. 
Gidon Sa'ar's Likud has a Mizrahi and traditional voter base, but he and other members of the faction toe an extremely liberal line on family values that is no different from that of Meretz.
Currently, same-sex couples in Israel cannot legally marry, but they have recently started to receive limited recognition.
In June, Education Minister Shai Piron (Yesh Atid) faced immense backlash after stating in an interview with Arutz Sheva that "it was the right of Israel, perhaps even its obligation, to tell same-sex couples that they could not be considered 'families.' However, we would grant them full economic rights." 
Piron, himself an ordained Orthodox rabbi, was later forced to backtrack slightly after enduring harsh criticism from liberals, for placing gay couples outside the definition of marriage, and from conservatives, for agreeing to give them full economic rights.
"There is a constant tension between religious belief and liberal society," he told Channel 10 at the time. "All I said was that it was possible to debate the question of 'familyhood' for homosexuals. I will not allow anyone to disqualify anyone for that standing, or for anything else, but that does not mean that the tension is not there."
When asked what he thought about "gay families," Piron said that a same-sex couple "is, from a civil, social, economic, and cultural point of view a family for all practical purposes. Religiously there is an issue, and this is a problem that must be solved.
"What most bothers me about this incident are the feelings of the children and adults I have hurt," Piron said. "I look at them directly and say 'I am sorry.' I am conducting an ongoing dialogue with the gay community," Piron added, "unlike what any other religious leader is doing in Israel today."