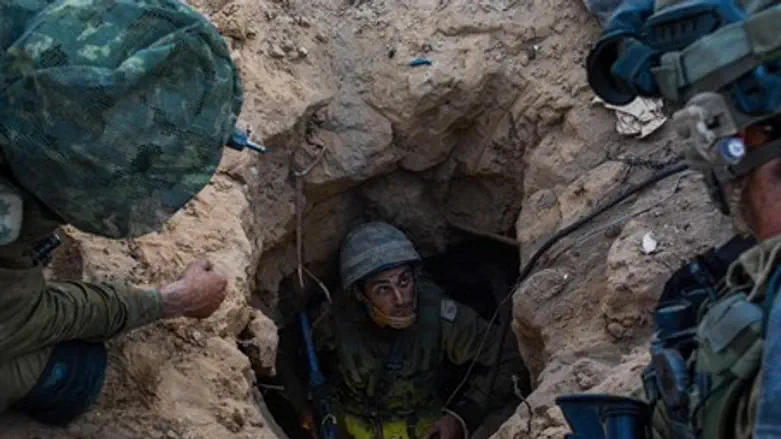 IDF soldiers in Hamas terror tunnel
Flash 90
IDF Northern Commander Yair Golan on Sunday met with a forum of leaders of communities on the northern border with Lebanon, and attempted to assuage concerns raised by the testimony of citizens that Hezbollah is preparing terrorist tunnels into Israel.
Many residents of the north have reported hearing the sounds of digging and hammers from underneath their homes, coupled with evidence of active cement mixers and construction trucks carting out earth on the Lebanese side under the cover of greenhouse structures. The threat is more pressing given the wide network of lethal tunnels unearthed in Operation Protective Edge in Gaza.
Golan tried to reassure community leaders that no cross-border tunnels from Lebanon are currently known of. He added that although the threat of rocket attacks remains the main security issue in the north, the IDF is preparing to deal with the threat of Hezbollah tunnels.
Homefront Command Chief of Staff Brig. Gen. Dedi Simchi was also present at the meeting, and promised that the lessons of the ongoing operation in Gaza will be implemented in the future in terms of security threats from the north as well.
While community heads expressed satisfaction at the information presented to them, Walla! reports that they demanded that Golan immediately cancel the security budget cuts for the northern communities near the border.
"Residents of the northern cities are aware of the security threats visible from over the border," said Sivan Yehiel, chairperson of the forum and head of the Kfar Vradim local council. "The state of Israel must pay attention to the northern front and the security threats it presents; despite the eight years of quiet - we must not be complacent."
The concerns are made particularly real given the IDF's controversial decision earlier this year to remove guards posted near several Gaza belt communities over budget cuts, a decision made the more alarming given the extensive terror tunnel system exposed in Operation Protective Edge which resulted in numerous IDF casualties.
Those tunnels were revealed in reports to have been planned for use in a massive incursion on Rosh Hashana, the Jewish New Year, during which the Hamas terror group planned to commit a large-scale massacre of Israelis living in communities near Gaza.
Geologist and res. Col. Yossi Langotsky last week told Arutz Sheva that he had tried to warn the security establishment about the tunnel threat from Gaza for nine years, but that his warnings fell on deaf ears.
Langotsky indicated that a similar threat exists on the Lebanese border. He pointed to the close relation between Hezbollah and North Korea, which has an advanced tunnel system under the Demilitarized Zone (DMZ) with South Korea, and which has reportedly played an important role in helping Hamas dig its own tunnels from Gaza, as well as providing them with rockets.