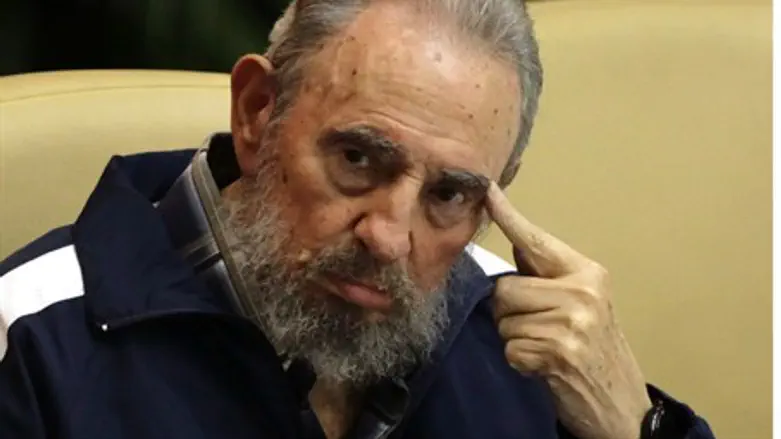 Former Cuban dictator Fidel Castro
Reuters
Former Cuban president Fidel Castro has signed an international manifesto "supporting Palestine," demanding that Israel respect UN resolutions and withdraw from "Gaza, the West Bank and East Jerusalem."
Castro, who will be 88 next week, added his signature to those of intellectuals and politicians to the document "In Defense of Palestine," the official Cuban Granma newspaper said Saturday.
Several other famous anti-Israel activists, including Bolivian President Evo Morales, Argentine artist and Nobel Peace Prize winner Adolfo Perez Esquivel, Cuban dancer Alicia Alonso and American writer Alice Walker, were also among the signatories.
The manifesto was promoted by the Network in Defense of Humanity, which includes several Latin American groups.
It asks governments around the world to demand Israel respect United Nations Security Council Resolution 242, adopted in the aftermath of the Six-Day War of 1967, which calls for Israel to withdraw to the 1949 Armistice Lines. 
In recent weeks, Latin America has been at the forefront of condemnation of the Israeli offensive, offering almost unanimous support to the Palestinians which has accompanied a global rise in anti-Semitism. 
Castro himself has accused Israel of engaging in a "new form of fascism" through the deadly military operation.
The conflict has killed at least 1,913 Palestinians and 67 people on the Israeli side, almost all soldiers, since July 8.
As part of the political assault on Israel, Ecuadorian President Rafael Correa cancelled a planned trip to Israel over the conflict last week. Earlier this month, Ecuador, along with Chile, El Salvador and Peru recalled their ambassadors from Israel over the Jewish state's military campaign in Gaza.
Another country in South America, Bolivia, renounced a visa exemption agreement with Israel in protest over its offensive in Gaza, and declared it a terrorist state.
Israeli foreign ministry spokesman Yigal Palmor stated shortly after the announcement that these moves constitute "encouragement" for Hamas, a group recognized as a terror organization by many countries around the world.