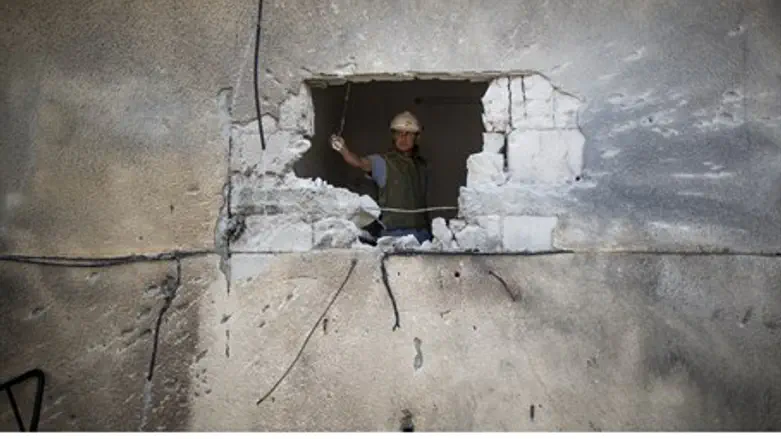 Rocket damage in Sderot (file)
Flash 90
As Israelis were welcoming the Sabbath on Friday evening, Hamas terrorists had plans of their own, firing five rockets towards the south.
Two rockets were intercepted by the Iron Dome anti-missile system over the city of Netivot, two rockets exploded outside a community in the Eshkol region, and a fifth rocket exploded in an open area of the Sdot Negev Regional Council.
There were no physical injuries or damages in any of the rocket attacks.
Earlier Friday, a rocket from Gaza directly hit a house in the city of Sderot.
Miraculously no injuries were caused as the residents were out at the time, but significant damage was caused to the property itself, and police were called to deal with shrapnel from the rocket.
Heavy rocket fire from Gaza resumed on Friday morning at 8:00 a.m. sharp, when a 72-hour ceasefire ended. Two rockets were also fired towards southern Israel at around 4:00 a.m. Friday morning.
Prime Minister Binyamin Netanyahu and Defense Minister Moshe Ya'alon authorized the IDF to retaliate with force to the rocket barrage.
(Arutz Sheva's North American desk is keeping you updated until the start of Shabbat in New York. The time posted automatically on all Arutz Sheva articles, however, is Israeli time.)