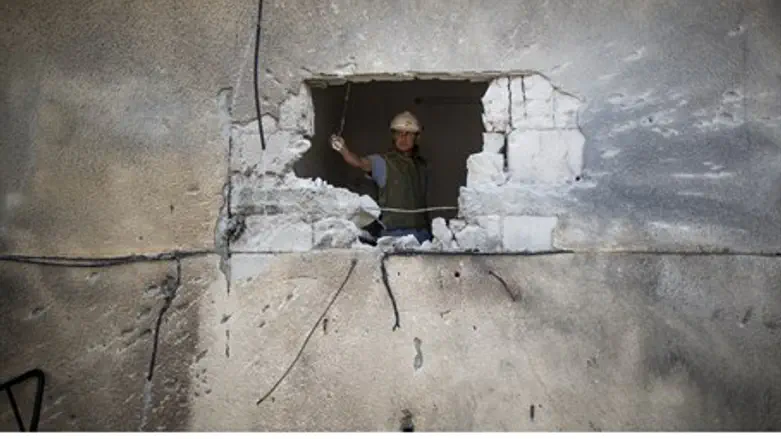 Rocket damage in Sderot (file)
Flash 90
A rocket fired from Gaza scored a direct hit on a house in the embattled Israeli city of Sderot - but miraculously no injuries were caused as the residents were out at the time.
However significant damage was caused to the property itself, and police were called to deal with shrapnel from the rocket. Terrorists usually pack Gaza-made "Kassam" rockets with nails, ball bearings and other pieces of shrapnel to maximise the lethality of the missiles.
Several other rockets fired at the same time landed in open areas, including one in the city of Ashkelon and another in the the Sha'ar HaNegev Region.
Shortly beforehand three rockets struck just outside of a village in the Sedot Negev Region, and an additional one exploded in the Hof Ashkelon area. No injuries or damage were reported in those attacks.
Earlier Friday, two Israeli were injured as Gazan terrorists resumes rocket fire shortly before a 72-hour ceasefire with Israel expired.
The IDF confirmed that one soldier was lightly injured and a civilian - Sapir College director Dr. Nachmi Paz - was moderately wounded. Dr. Paz is being treated for his injuries in Soroka Medical Center in Be'er Sheva for shrapnel wounds to his leg.