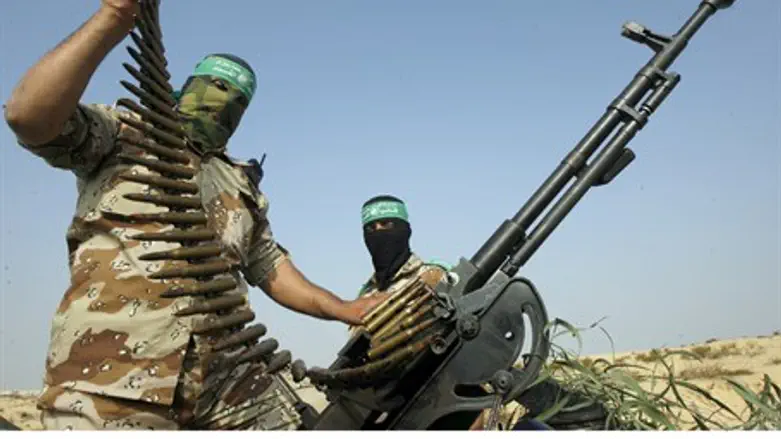 Terrorists from Hamas' Ezzedine al-Qassam Bri
Flash 90
A spokesman for Hamas's "military wing", the Ezzedine al-Qassam Brigades, warned Thursday of renewed fighting with Israel if talks in Cairo to extend a 72-truce in Gaza collapsed.
"We appeal to the Palestinian delegation to not accept a ceasefire, unless it satisfies the demands of our people," a spokesman using the nom-de-guerre Abu Obeida said in a televised address, adding that Hamas fighters were "ready to return to battle."
The three-day truce ending four weeks of bloodshed between Israel and Hamas is due to end at 0500 GMT Friday.
The sides have so far failed to negotiate an agreement to extend the truce, with the Palestinians accusing Israel of "procrastinating". But Israel has insisted it will not give up on its key demand for the demilitarization of Gaza in order to end any future threats against the Jewish state. 
Abu Obeida said the main demand of Hamas was the opening of a sea port for the blockaded enclave.
"We will not agree to stop the battle without a real end to the (Israeli) aggression and a real lifting of the siege," he said.
"If there is an agreement, it will be possible to extend the truce, but if there is not, we will ask the delegation to withdraw from the talks."
Speaking from Cairo, senior Hamas political official and delegation member Ezzat al-Rishq, said: "The resistance in Gaza and the delegation in Cairo are in one trench."