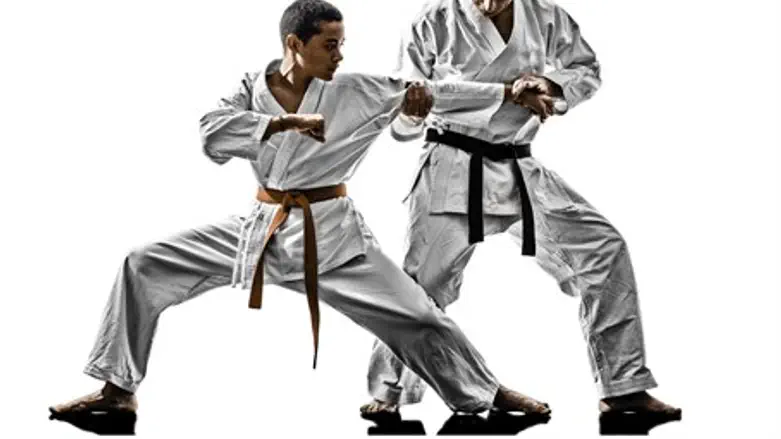 Illustration
Thinkstock
Israeli karate trainer Shai Hai was attacked by a group of Iranians and Germans in Frankfurt, Germany, at an international karate seminar last week.
Hai was the headline speaker at the seminar, which was attended by about 90 people and supposedly dedicated to advancing world peace and unity. He was the only Israeli at the international event. 
When he got up to speak, members of the Iranian delegation and about 15 Germans began shouting at him, he told IDF Radio Monday. "They called me a murderer, said I had blood on my hands, that I came from a nation of murderers, that I had gained his position in the karate world by stepping on the bodies of Palestinians, that it is unthinkable to learn martial arts from a person who hails from a nation of murderers, ugly things like that," he recalled.
A female attacker tried unsuccessfully to spill red paint on his clothes, Hai added. Another man tried to approach him physically. He responded with the self defense techniques he is trained in: "In a matter of seconds, he had flown halfway across the auditorium," he said.
The organizers sent the Iranian delegation packing, and the German attackers were also thrown out. "Security men arrived, and an hour later, they were outside with their suitcases," said Hai. Following the incident, he addressed the remaining participants and told them: "I respect those who hate me, and those who do not respect me, too. They have a right to their opinion and they can do what they want as long as they do not try to touch me or my family."
Hai said that this was the first time he has experienced anti-Semitism, despite living outside of Israel for years. The incident had a positive side, he said, because the students got to see him using self defense in real life. This made it easier to break the ice, he said, and get straight to the lessons.
Germany, like many other European countries, has seen an alarming spike in anti-Semitism since the start of Israel's counterterrorism operation in Gaza, prompting stern condemnation from German leaders.