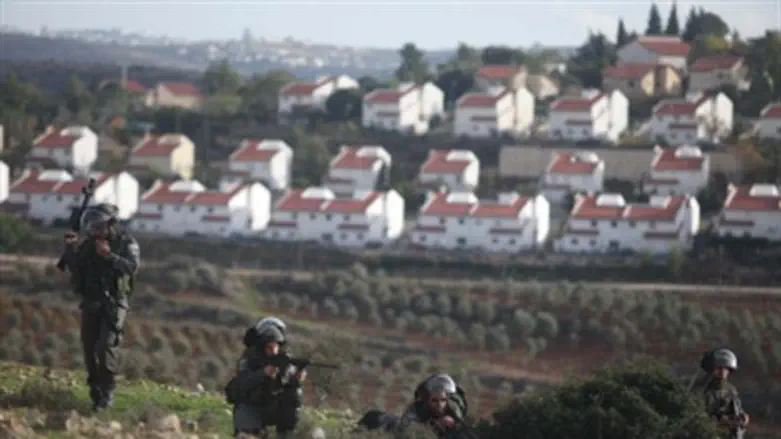 Soldiers outside Neve Tzuf (file)
Israel news photo: Flash 90
Fatah's "military wing," the Al-Aqsa Brigades, have claimed responsibility for a failed terror attack on a Neve Tzuf family home Sunday, in what was initially thought to be a burglary gone awry. 
The statement said that a terror cell from the organization confronted "Zionist settlers" and killed three of them before they could safely return to their task. 
However, no deaths were reported in the infiltration event on the Israeli side - and the statement is likely another show of bravado to mask the fact that the terrorists were forced to flee after being beaten back by the Jewish family. Two people were injured.
The terrorists entered the family's home, according to details released Monday, then entered the kitchen and began looking for knives. Family members then found the assailants and confronted them; clashes ensued and the terrorists fled the scene. The family called security forces, but the cell has not yet been apprehended. 
Fatah presented their own version of events, proudly proclaiming that "this struggle continued until victory or martyrdom in the way of Allah." 
Many terrorist infiltrations are staged as burglaries to mask their nationalistic motivations; terrorists use extreme violence when confronted, but claim that the purpose was theft - not to specifically hurt or kill Jews. 
The incident surfaces less than one week after Hamas and other Palestinian terror groups called for a third intifada, both in Judea and Samaria and worldwide.