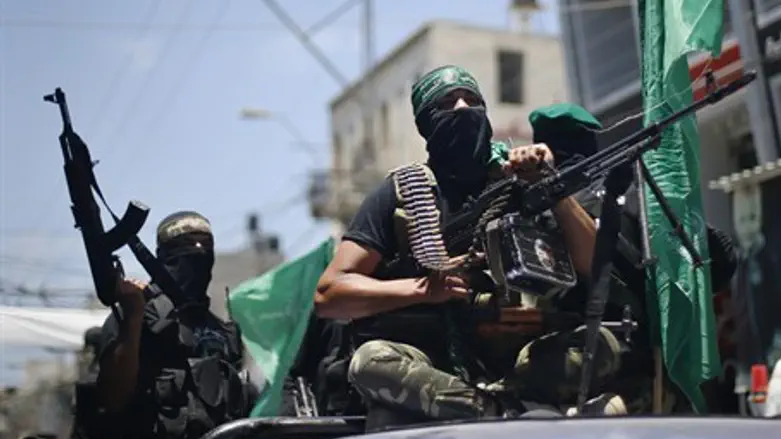 Hamas terrorists in Gaza (file)
Reuters
Hamas is claiming that, when its terrorists fire rockets towards Israel, they try to avoid hurting Israeli civilians.
In a statement on Sunday, the group's "military wing", the Izz A-Din Al-Qassam Brigades, threatened to fire rockets at all the cities in Israel that are within the ranges of its rockets.
At the same time, the statement claimed, Hamas is not trying to harm Israelis with its rocket attacks, only military personnel and installations.
"During the campaign we tried as much as possible to focus on targeting military personnel, soldiers and officers of the enemy, its military bases and airports, and avoided as much as possible targeting someone who is not a military person," Hamas claimed.
The group further said that as long as Israel continues to target civilians in Gaza, Hamas will continue to fire rockets, because "there is nothing more precious to us than the lives of our people."
The statement came as Hamas terrorists fired 70 rockets and mortar shells at Israel on Sunday. One man suffered light injuries when a mortar shell struck a Jewish community in the Shaar Hanegev region, near Gaza.
A senior IDF officer said on Sunday morning that the forces are completing their mission to destroy terror tunnels in Gaza.